Maybe I'm Not Fine. Are You?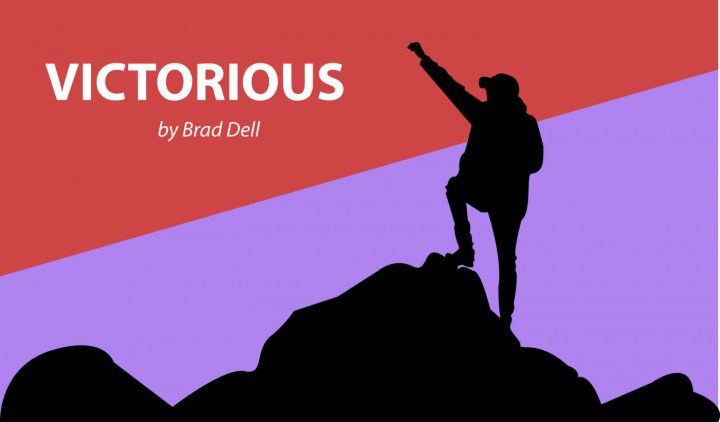 I've been bored during my six weeks of isolation. But sometimes boring is a synonym for peaceful. Yes, it's been a peaceful time of silence and introspection. For example, in all my sitting around, I realized something really cool: I'm an amazing liar! I'm so good at it that sometimes I don't even realize I'm lying — it's like breathing to me.
In particular, I've mastered the lie of "I'm fine." It's a common lie, sure, but you have to be really talented to pull it off so well that even you believe it. For two decades, I've honed my craft, repeating the lie through bullying, dependency, and breakups. I've gotten so good that if — hypothetically, of course — I was an immunocompromised person in a pandemic, I would be able to say everything is peaceful!
Anyway, back to isolation. It's been so boring that I have no idea what to write about for this column. Maybe I'll write about my freaky, vivid dreams during which I fall off Singaporean skyscrapers. Or how I can't focus on diddly squat. Or maybe how I enter Zoom prayer groups with a smile but leave them weeping for some reason.
Oh, wait … I think I'm not fine?
I'm quite proud for realizing that so quickly. Usually during crises I pretend I'm fine until my mental dam bursts months later and grief destroys me. It's a coping mechanism: Calmly handle crises and realize emotional wounds only when in the clear.
However, in my old age — as a CFer, anyway — I now know the wisdom of processing emotions as they come, rather than suppressing them until they lash out uncontrollably. Now that I've realized today's subconscious anxieties, I'll take steps to fully realize them so that I can process them in a healthy manner. I've found many others with chronic conditions similarly suppress grief and fear. Let's practice intentional emotion-processing together in this surreal season. Following are tips to get us started.
Make your insides become your outsides.
I don't mean vomiting all your lung mucus. Rather, sometimes we just need to, hmm, "word vomit." Talk to a loved one about how you really feel and remove your verbal filter. Let your subconscious pour out its turbulent spirit. That's how psychotherapy works: You talk until you say stuff you didn't realize you felt or believed. Your subconscious becomes conscious. The same thing can happen when you journal. Write about your day and how each event makes you feel — write both the good and the bad.
Have a good cry.
Yes, even if you're a man. I don't have patience for the nonsense that men shouldn't cry. Crying signals that something is wrong (or very right). Crying also heals us. If your emotions are in turmoil, simply thinking about crying could be enough to make it happen.
Be a help to get some help.
Help others. It'll make you feel good. Particularly, help others by listening, because that can make you realize that you don't feel so good. When someone describes their struggles, you might find yourself nodding along, agreeing, then realizing … Sometimes we empathize without realizing why we empathize. I'll let you in on a secret: We empathize because we feel the same. (Follow-up secret: That wasn't a secret, it's the definition.)
'LA LA LA LA!'
No, I don't mean walking around the house, plugging your ears and wailing "LA LA LA LA" to drown out your spouse's begging for you to wash dishes. Instead, "LA LA LA LA" to music. Crank up emotional tunes and sing along loudly. When emotions are pent-up, those suckers tend to run out through spooky music magic. Lady Gaga's "Always Remember Us This Way" is my favorite crying song. No shame.
Be moody.
In a dark room, light a candle. Inhale through the nose, exhale through the mouth. Sit still, silently. Simply be. Allow your mind to wander. No longer distracted by the comfort foods of Reddit and Netflix, your mind realizes things. Deep things. Emotional things. Healing things. If you have trouble sitting still, try a meditation app like Calm.
Look to the stars.
Wander out at night and plop down spread-eagled in the grass. (Check for dog poo first.) Gaze at the stars and let yourself feel vulnerable, like you might float into the sky if you don't grab onto the grass. Don't grab the grass. And don't you dare grab your phone. Stare up at those stars and appreciate the crickets' serenade. If you're like me, you'll feel disarmed. Maybe even the defensive weapon of "I'm fine" will float off into that night sky.
***
Note: Cystic Fibrosis News Today is strictly a news and information website about the disease. It does not provide medical advice, diagnosis, or treatment. This content is not intended to be a substitute for professional medical advice, diagnosis, or treatment. Always seek the advice of your physician or other qualified health provider with any questions you may have regarding a medical condition. Never disregard professional medical advice or delay in seeking it because of something you have read on this website. The opinions expressed in this column are not those of Cystic Fibrosis News Today, or its parent company, BioNews Services, and are intended to spark discussion about issues pertaining to cystic fibrosis.