Artist With CF, Caleigh Haber, Fights to Breathe, Advocates For Lung Donor Awareness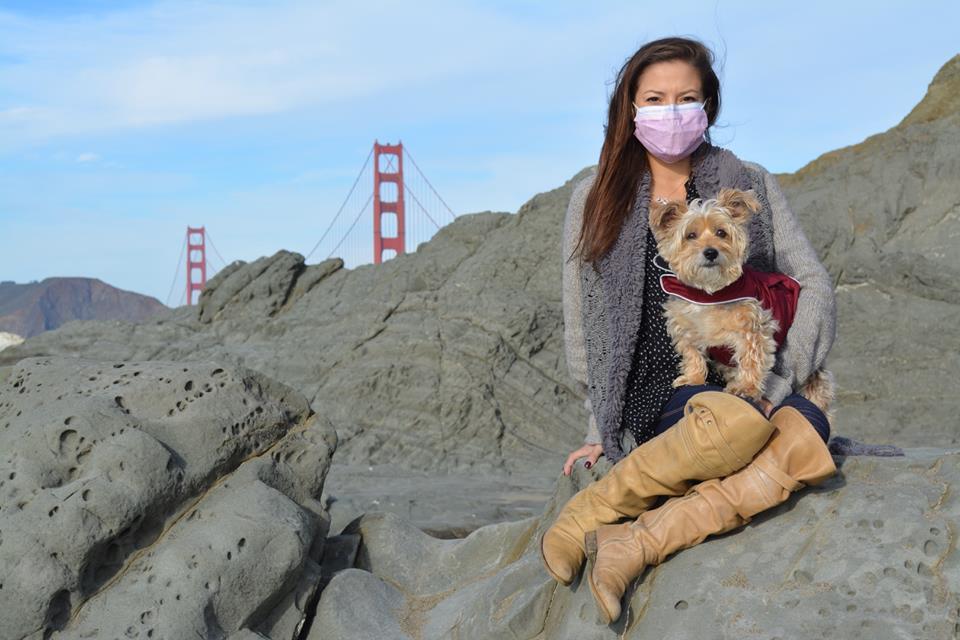 Caleigh Haber is an artist, blogger and the focus of this month's Happiness Stories video series. To celebrate Cystic Fibrosis Awareness Month, the series is sharing the story of Caleigh, who despite living with cystic fibrosis (CF), tries to always see the brightest side of life with a smile on her face. The prolific artist and writer of the Fight2Breathe blog is currently waiting to receive a double lung transplant, a life-saving procedure for many CF patients.
Caleigh, 24, was born with cystic fibrosis, but spent her childhood living a healthy and active lifestyle. As a result of the disease's progression, however, she now needs to use supplemental oxygen to breathe in addition to undergoing breathing treatments four times a day, a daily course of medication, and a feeding tube to fight the digestive nutritional absorption issues associated with the disease. However, she explains in the video that CF is not the disease that defines her, as she has chosen to fight it and live her life to the fullest.
"To me, cystic fibrosis feels like to literally have a hard time to breathe everyday, struggle to walk up the stairs, struggle to keep up with my family and my friends. But I'm still a girl, if I'm gonna go out on a date, I'm gonna try a couple of different outfits, and make myself really pretty … I'm a normal person. I have a chronic illness, yes, but CF isn't who I am. I am Caleigh," she explains in the video entitled "Fight2Breathe — Story of Caleigh Haber."
In order to deal with the burden of the CF, Caleigh began writing and publishing on her blog in 2013, in which she shares her daily stories and tries to inspire others to live positively. Despite having bad days, she still tries to do the things that she loves, which includes eating sushi, watching her favorite shows like The Ellen Degeneres Show and dancing to her favorite music artist Beyoncé — just like any other girl her age.
In addition, she has found in painting another way of expressing how she feels and her struggle with CF, an inspiration that came to her after attending an event related to the disease that encouraged her to discover a new way to make a difference in the CF community. The impact was so positive and she felt so good about it that she started putting her thoughts and ideas about CF into colorful paintings. Caleigh says that she likes to use vibrant colors and paint around themes like roses (inspired by the term "sixty-five roses" — a play on words for "cystic fibrosis"). And on days when she struggles hardest with the disease, her paintings reflect that struggle as well.
https://www.youtube.com/watch?v=8gUZ7vIh7c0
In need of a double lung transplant, Caleigh has been submitted to a pre-transplant evaluation and is currently on the organ recipient list at two centers, waiting to receive the procedure that may change her life. Ever optimistic in the face of struggling with CF, she explains that "Transplantation will be an exciting journey," on her blog, asking readers to "please explore the site and show your support any way you can to help me secure a new healthy life of breathing easy."
Organ Donation and Cystic Fibrosis
The other purpose of Caleigh's video is to raise awareness about organ donation and its importance for CF patients. An organ donor can potentially save up to eight people's lives, as well as help numerous others through tissue donation. Last year, over 28,000 transplants were made due to organ donors, while anyone can become a donor by enrolling in a state donor registry.
There are still thousands of patients who die every year waiting for transplants. For CF patients, receiving a transplanted lung can help improve their capacity to breathe and quality of life, since the transplanted lungs are not affected by the disease. However, after the transplant, the patient continues to deal with CF symptoms in the sinuses, pancreas, intestines, sweat glands and reproductive tract.
Last year, the Organ Procurement and Transplantation Network (OPTN) updated its adolescent donation protocol to enable sick children under 12 years old needing a lung transplant to be evaluated according to the seriousness of the patient's disease state and not on their age. The new measure enables children who were previously almost totally dependent on lung donations from other children, to have broader access to donated organs from adults.
The Happiness Stories video series was created by Ron Parida, and is designed to showcase people who live and fight the worst circumstances of life, such as cancer or amputees, in addition to cystic fibrosis. The main purpose is to share stories of positivity and happiness in order to inspire and motivate others dealing with the same struggles or similar ones.
"Remember that happiness is a choice we all have. It's about living a fulfilled life, finding bliss, sharing gratitude, and experiencing the deepest love," explains Parida on the YouTube channel, while he describes Caleigh as a "#ChronicBadass [that] has been smiling her way through Cystic Fibrosis her entire life! In honor of CF Awareness Month, we wanted to know what dealing with CF means to her, how she has maintained such high spirits, and what we can all do to help, not just her, but all CF fighters!"
Similarly to Caleigh, the 27-year-old aspiring singer and CF patient, Wiktoria Lachowski of Calgary, Alberta, has also become an Internet star after the success of her YouTube video featuring an incredible audio recording of Mozart's Le Nozze Di Figaro and a slideshow of pictures. The CF patient also shares with Caleigh the need for a lung transplant, for which she is currently waiting.