CF Trust Supports New 'Opt-Out' Organ Donation Law in Wales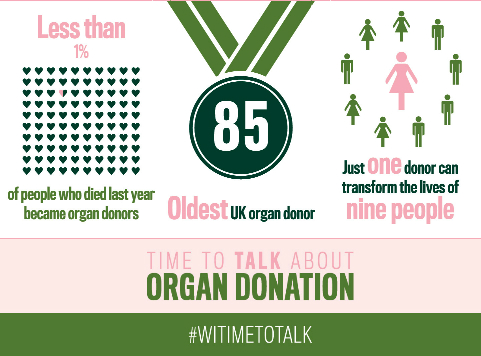 The Welsh Government is set to launch a year-long campaign, called "Time to Talk" that aims to ensure their employees are well-informed of the soon-to-be implemented shift to a soft opt-out system of organ donation, and what choices are available to them. Those who do not register will be considered opted in; participants must opt out if they do not want to be an organ donor. The government is calling on Wales-based private, public and voluntary employers to help promote the campaign beginning December 2015
Through the opt-out system, interested organ donors in Wales can register their consent (opt in), or their decision not to be an organ donor (opt out). The government's next steps to fulfill the campaign's main objectives are to provide information leaflets at employees' desks, and put up informational posters in work environments.
The Cytic Fibrosis Trust has pledged its support to the campaign. Public Affairs Officer, Kayleigh Old, is passionate about making organ transplantation less of an ordeal as she knows how it is to be anxiously waiting on a transplant list, while she remained dependent on oxygen for a year. "As a person living in Wales believe it's important to raise awareness of organ donation and the choices we all have with what happens to our bodies when we pass away," says Kayleigh. "I believe it is a very important choice, and it should be spoken through with our loved ones.
[adrotate group="1″]
"I also feel so passionately about organ donation and consequently transplantation because I hope to benefit from the kind decision of someone who decided to donate their organs. I have seen friends' lives transformed as a result of organ donation and transplant and I hope my call and successful transplant comes soon."
Estimates show about a third of people diagnosed with cystic fibrosis who are placed on a lung transplant waiting list die of respiratory failure before they are given a shot at the procedure. This has been a healthcare challenge the Trust has been seeking to address through its "Hope for More" campaign. Hopefully, through the upcoming opt-out legislation, there will be more organ donations available for people struggling to survive.