#ECFS2018 — Can Remote Monitoring Really Revolutionize Cystic Fibrosis Care?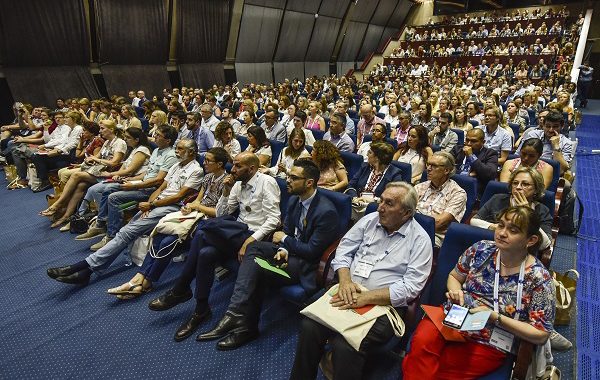 Some 318,000 health-related software apps are now on the market, with another 200 appearing every day. Yet a British cystic fibrosis expert questions how effective they are at managing lung disease, for reasons that range from the needless anxiety they can cause to sporadic use and concerns with patient data protection.
Jane Davies, MD, a pediatric respiratory professor at Imperial College London, spoke on the subject recently at the 41st European Cystic Fibrosis Conference (ECFS) in Belgrade, Serbia.
Respiratory apps account for only 5 percent of all healthcare apps integrated into a variety of platforms — including watches, wristbands, skin patches, shoes, belts, textiles, and smartphones. That compares with 16 percent for diabetes and 28 percent for mental health and behavioral disorders.
Davies cited a study by Cedars-Sinai Medical Center in Los Angeles, "Impact of remote patient monitoring on clinical outcomes: an updated meta-analysis of randomized controlled trials," published in January in the quarterly journal Digital Medicine.
"The study found that remote patient monitoring showed early promise in improving outcomes for patients with select conditions, including obstructive pulmonary disease, Parkinson's disease, hypertension and lower back pain," she said. "Interventions aimed at increasing physical activity and weight loss using various activity trackers showed mixed results, while cash incentives and automated text messages were ineffective."
In a separate pediatric study of electronic monitoring of symptoms and lung function to assess asthma control in nearly 100 children, Davies said, "adherence to home monitoring was only 47 percent, and worse in children with higher baseline inflammation and a worse baseline ACQ [asthma control questionnaire] score."
The bottom line, she said, is that such apps are "least likely to be used by those who need it the most," meaning that "we may need to adapt interventions to those patients, and they may be a difficult-to-reach population."
Biomarkers and body fluids
For now, most of the advances in remote monitoring and biosensor technologies are happening outside the context of cystic fibrosis (CF), Davies said.
"There's a lot of work going on with biomarkers, body fluids — sputum, urine, blood — quality and quantity of sleep. Another area of interest is infection, or the monitoring of organisms," she said. "There's also increasing interest in wearable devices to assess drug levels."
Biosensors now on the market are focused mainly on pathogens, sweat, inflammation, and genetic analysis, she said — all of which could be useful for cystic fibrosis patients hoping to monitor their own pulmonary and nutritional health.
This includes a wearable device on the skin of the arm that induces sweat production, then analyzes that sweat for salt and glucose levels.
"We could empower patients to be in more control of their own disease. But it may also allow us to prioritize our healthcare to those who need it, at the moment they need it," Davies said. "I can see a huge number of reasons why we might want to harness this technology."
While studies have shown that "telephone monitoring and home visits significantly improved the quality of life, treatment adherence, and lung function in children with cystic fibrosis," potential downsides exist, she cautioned.
"Could we be inducing anxiety in parents of patients?" she asked. "Most data suggest this technology is unlikely to lead to health savings benefits, at least in the short term — and there's also this enormous issue of data protection, which we must think about right upfront."
European Reference Networks: Useful for CF?
Online technology may help cystic fibrosis patients in another way: the launch of a trans-border program that allows European doctors to offer advice to each other remotely through a virtual advisory panel, using a dedicated IT platform and telemedicine tools.
The European Reference Networks (ERN) — established in February 2017, six years after the passage of the European Union's Cross-Border Healthcare Directive — today consists of 24 specific networks dedicated to rare or low-prevalence complex diseases. The system already encompasses 300 hospitals and 900 medical teams in 25 EU member nations plus Norway.
One of those networks is ERN-LUNG (the European Reference Network on Rare Respiratory Diseases), which includes cystic fibrosis.
"The idea is that patients anywhere in the EU, or even outside the EU in the future, can go to their national healthcare providers and enter knowledge about a specific rare disease and ask for advice," said Dutch pediatrician Kors Van der Ent, MD, PhD, of Wilhelmina Children's Hospital in Utrecht, Netherlands.
The people behind the ERN concept are certainly optimistic about its prospects.
"As a medical doctor, I have too often been witness to tragic stories from patients with rare or complex diseases," Vytenis Andriukaitis, MD, the European commissioner for food and health safety, said one year after the network's launch. "Connecting our assets through ERNs can bring concrete benefits to many thousands of patients."
The ERNs employ a clinical patient management system with secure logins. This allows users to select an expert with whom they wish to discuss a case, as well as register a patient and level of informed consent. It also allows non-ERN members to bring in patients.
But Van der Ent said standard-of-care guidelines and quality controls are already covered by working groups of the European Cystic Fibrosis Society, which is based in Denmark.
"I don't expect this will be very helpful for the CF community," he said. "Also, the ECFS's Clinical Trial Network is working very well, so I don't think this facility is of much added value — but it can help us build more cross-border knowledge.
"ERN-LUNG can help us to ratify ECFS statements at the EU level, and can be beneficial for future EU funding and political issues, such as twinning with CF centers in Eastern Europe, or in Asian and African countries. Maybe this is a starting point for more expansion of our knowledge."