Using Nebulizer While Lying on Alternating Sides Can Better Deposit Therapy Across Lungs, Trial Finds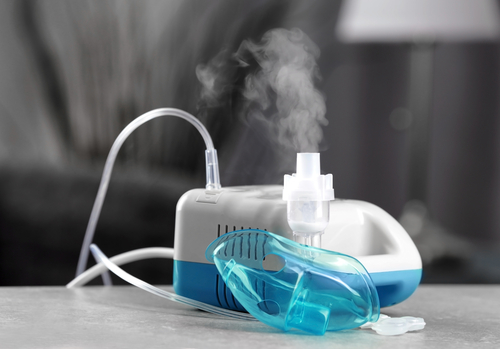 People using a nebulizer while lying on their side showed no significant loss in a treatment's overall deposition in the lungs, a study in healthy adults and in cystic fibrosis (CF) patients reports. Rather, it found that alternating sides instead of sitting upright may better deposit a medicine's active compounds throughout the lungs, especially across its upper portions.
As many patients prefer the comfort and convenience of nebulized treatment while lying on their side, allowing treatment in this position could improve adherence without affecting efficacy, its researchers said.
Trial findings were reported in the study "Side lying during nebulisation can significantly improve apical deposition in healthy adults and adults with mild cystic fibrosis lung disease: a randomised crossover trial," published in the journal BMC Pulmonary Medicine.
Effectiveness of inhaled therapies depends, to a great extent, on how they are distributed within the lungs.
Sitting during nebulization is often advised, as deposition of inhaled compounds is influenced by airflow patterns. However, this strategy may favor depositing medication across the lower portions of the lungs (basal deposition), with insufficient deposition across the upper portions (apical deposition).
To overcome this limitation and improve the homogeneity of drug deposition in the lungs, experts have proposed having patients alternate between right and left side lying during nebulization. But concerns were raised that this approach may reduce the volume of the airways and negatively impact inspiratory flows.
Researchers in Australia conducted a randomized study in 13 healthy volunteers (ACTRN12611000674932), and in 26 patients with mild to advanced CF (ACTRN12611000672954) to explore side lying during nebulization.
All participants were randomized to nebulization therapy in one of two positions: either an upright sitting position, which was maintained for a 20-minute nebulization period; or alternate left and right side lying, with sides changed every two minutes, throughout the 20-minute treatment period.
Results showed that the sitting position led to a greater overall therapy deposition in patients with mild CF, compared to both healthy and advanced CF groups — with a mean 16% of the loaded nebulizer dose deposited in the lungs, compared to 11% in each of the other groups.
The compound's distribution in the lungs with side lying was similar to that reported in sitting patients.
However, the density of the deposition was significantly better in apical (upper) lung regions with side lying. In healthy adults, the apical deposition was 13% greater than in those sitting during nebulization, and in adults with mild CF it was 4% greater in comparison. In patients with more advanced CF, side lying also improved apical deposition by 4%, but the results were more variable and did not reach statistical significance.
Although these reported changes are below 15%, which is the minimum difference proposed to be clinically worthwhile, "the positive trend provides further reassurance that taking a nebulizer in side lying does not substantially compromise drug deposition," the researchers wrote.
"Permitting people with CF to have the flexibility to nebulize in side lying may improve treatment adherence in patients who prefer this regimen," they added.
As this strategy was seen to be most beneficial to patients with better preserved lung function, "side-lying strategy may be more helpful in children with CF, or in respiratory conditions … such as pneumocystis pneumonia," the team suggested.