CF Family Friday: Polina and Nellie Bykova's Sister Power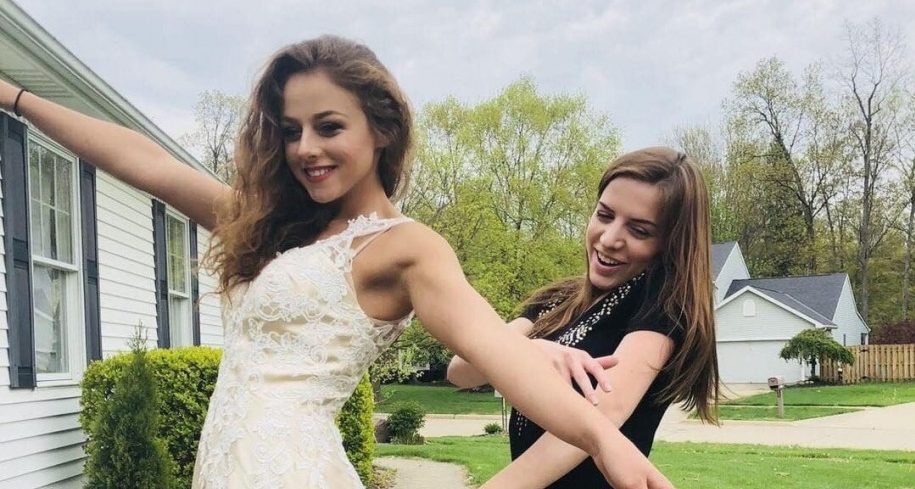 Hi, I'm Luisa Palazola, the Cystic Fibrosis News community manager. This week for Family Friday we spoke to sisters Polina and Nellie Bykova. Polina is 20 years old and has cystic fibrosis (CF). Nellie is 19 years old and doesn't have CF. Our conversation covered immigrant experiences, hospitalizations, family support and sacrifices, and sisterhood.
On moving to the United States
The Bykova family is from Russia. When Polina was 6 months old, her parents took the initiative to move their family to the U.S., as Russia had been undergoing political and social upheaval. The U.S. medical system diagnosed Polina — Nellie was born shortly after.
Polina: So we have five siblings. There are two older brothers, then its me, and then my sister, and then I have two younger brothers. So there's six of us total.
Luisa: So there's six of y'all and you are the only girls?
Polina: Yeah, mhmm. We did have a sister she was older than I was, but she passed in Russia. She never was diagnosed, but we have a feeling that she may have also had CF, especially because in Russia, during Soviet times, they were not updated with their medicine. They had no idea what was wrong with her, so they couldn't diagnose her. She ended up passing. When I was diagnosed or when I started getting symptoms, it was the same symptoms my sister had. So, we have a feeling that she may have had the same thing (CF).
Luisa: Did y'all come to the U.S. out of concern for your health, or was coming here part of a plan and you ended up being diagnosed here?
Polina: My health was not an issue, as my symptoms never started to get bad until six months after birth. We came to the U.S. because there was a war.
Nellie: Our parents took a big risk. They came here knowing no English and with little money. And now they have a house and a great family, and we try to support each other as much as we can.
On hospitalizations
Throughout our conversation, support was a major theme. I was curious about the position of a sibling to someone with CF, and how that feels during difficult times and throughout admissions.
Polina: I would like to think of myself as one of the "rare cases." I've only been admitted four times. However, in September and November, my lung function was terrible — I couldn't breathe on my own. I was intubated for five days and in the hospital for like a week and a half. That's the worse that my CF has ever gotten. But yeah, other than that, I've only been admitted to the hospital four times.
Luisa: Nellie, when your sister is admitted, what does that feel like for you?
Nellie: It sucks. It is the worst feeling ever. It's a lot different than when I'm actually at home and she's in pain or hurting because I can actually be there, I can help her, I can tell her my input and tell her things will be OK. But, now that I am in college (two hours away) and she's home, I can't do anything. The last time she was in the hospital, I remember being in my dorm, crying and being like, "I don't know what to do." I couldn't even call her because she couldn't talk, she had the tube down her throat. It was absolutely horrible. And, it is scary. And [I wondered], "When is the next time this is going to happen?"
On family sacrifices
Nellie: A few years back we went camping and our brother's wife was really sick. And, me, my sister, and her were sleeping together in one little space. Our brother's wife slept on one side and my sister slept on the other — I slept in the middle. I did that because I had a feeling that if Polina slept near, she can get sick by that easily. At the end of the night, I got sick. All I was thinking was, "I would rather get sick for her because I could get through it easier and wouldn't have to go to the hospital."
On showing emotions and dealing with CF as a family
Nellie: To just think, putting myself in my sister's shoes … I maybe am physically stronger, but she is mentally stronger. I am the biggest baby you will ever meet — I am very emotional and very sensitive.
Polina: My brothers are the exact same way, but because they are boys, they like to be all macho so they don't like to show the fact that they care as much as my sister does. But, you can tell.
Luisa: That makes sense. You get to see the raw emotion, because she's going to show it. There's less stigma for her to show it, whereas your brothers … 
Polina: Yeah, my brother — the second oldest brother — he had plans to move to Washington and stuff. We thought it was set in stone, and when that hospital breathing tube incident happened in September, where I was like pretty much near death … I didn't know about this, but my mom told me he that he wasn't going to move to Washington because if something like that ever happened again, he wouldn't be able to do anything about it. He wouldn't be a car ride away; he would be a plane ride away and that's not as easy.
Nellie: She's fearless. She can attack things so much more easily. But then I remember she's told me she wishes she was me, and I wish I was her. We both have different, but together we're stronger. She's stronger where I am weak and I am stronger where she's weak. I think that's why God put us together — because we're perfect that way.
***
Note: Cystic Fibrosis News Today is strictly a news and information website about the disease. It does not provide medical advice, diagnosis, or treatment. This content is not intended to be a substitute for professional medical advice, diagnosis, or treatment. Always seek the advice of your physician or other qualified health provider with any questions you may have regarding a medical condition. Never disregard professional medical advice or delay in seeking it because of something you have read on this website. The opinions expressed in this column are not those of Cystic Fibrosis News Today, or its parent company, BioNews Services, and are intended to spark discussion about issues pertaining to cystic fibrosis.