Dealing with Expectations at Work with an Invisible Illness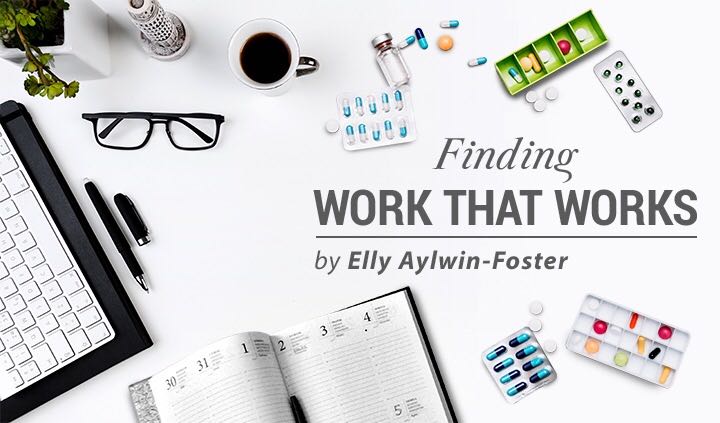 My column focuses on working life and professional ambitions for people with cystic fibrosis. I write it for two reasons.
The first is to speak to carers, parents, and young people growing up with CF on the spectrum of a hopeful future that is emerging for our community. This is not everyone's reality with CF — it's not mine some of the time — but I think we do a disservice to those still learning about CF if we don't represent all sides of this condition.
Secondly, I write for those already working, to share tales of the hidden life we lead alongside our professional life while often appearing completely well on the surface.
Much of what I write in my columns is applicable to other areas of life with CF, such as the themes of self-acceptance and knowing our limits. But I think they are not explored at work enough.
This week, I've been reflecting on the aspects of a (mostly) invisible illness and the times they collide with the expectations of those around us at work.
Early morning meetings come to mind. On one such occasion in a previous job, I was preparing to host a breakfast event.
"God, I hate mornings," said my senior colleague, a trace of stubble lining his features and tired eyes clear to see. "I don't speak well so early in the morning."
I eagerly agreed while making a beeline for the coffee. While commiserating on the evil of early alarms with him, I did not mention that I struggled with several things besides talking in the early hours. Breathing, moving, and even eating are three such examples. The morning routine of a person with CF must seem so foreign to others: the nebulizers, the physiotherapy, and the treatments compressed into an impossible balance of time for sleep and time to make the body fit to start the day. The unpleasant sensation of forcing down breakfast into a bloated stomach that hasn't woken up because insulin has to be administered.
Another time, the dreaded early alarm never went off and I woke up realizing I was due to meet someone in 20 minutes. While someone without CF might have been able to dress at lightning speed and make do with a quick personal hygiene routine, the heaviness of my pre-physio lungs was a reminder that it was out of the question for me. I rescheduled.
This is in contrast to the times when my CF made itself visible. I've done IVs in the office. Like many of us, I've called in sick to be admitted to the hospital. As with any other obvious display of illness, I have only ever been met with kindness, curiosity, and consideration on those occasions.
Despite this, I often treated the expectations of those around me at work differently than the expectations of friends, family, and even healthcare professionals. I'm not sure why. I think I felt I couldn't take my CF with me to work. I was happy to talk about my condition but hesitant to discuss any aspects that might actually make it harder to do my job at times, or that would need adjustment to help me. Subconsciously, I must have had an image of a "respectable ill person" in my mind that I was trying to meet.
Perhaps this was how my inner monologue went: Respectable ill people are upfront about their health, but they never moan about how hard it is. They can take sick days if they really have to, but they have to work twice as hard when they come back to work to make up for it.
Parts of this misguided mindset evolved into my current philosophy about CF, while fortunately, I ditched the other bits. I still believe in openness and being upfront, but I now understand that showing vulnerability is what connects us to our fellow humans. It's never a sign of weakness. Whether at work, with people I know, or out in public, it's something I try to hold on to.
I'm going to try something a little different for the next few columns. I'm exploring the different modes of work that CFers are making work for themselves — from freelancing to working part-time, and even setting up businesses and occupying leadership positions. That means I'd really love to hear from people who fit these criteria. Get in touch below or on the CF News Today Forums if that's you.
To stay up to date with my writing and contribute to my book on life with chronic illness, visit professionalsickgirl.com.
***
Note: Cystic Fibrosis News Today is strictly a news and information website about the disease. It does not provide medical advice, diagnosis, or treatment. This content is not intended to be a substitute for professional medical advice, diagnosis, or treatment. Always seek the advice of your physician or other qualified health provider with any questions you may have regarding a medical condition. Never disregard professional medical advice or delay in seeking it because of something you have read on this website. The opinions expressed in this column are not those of Cystic Fibrosis News Today, or its parent company, BioNews Services, and are intended to spark discussion about issues pertaining to cystic fibrosis.