Cystic Fibrosis Trust Goes Digital with DocuSign To Channel More Resources To Core Mission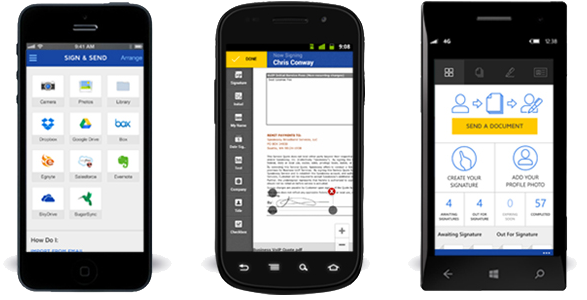 The U.K. based Cystic Fibrosis Trust, a national charity that funds research into the disease and provides information and support for patients and families, has announced that the nonprofit organization will standardize using DocuSign for Digital Transaction Management in order to eliminate printing, faxing, scanning and overnighting documents in completing transactions, thus enabling more concentrated focus on its core mission — finding a cure for Cystic Fibrosis (CF).
DocuSign Impact Digital Transaction Management (DTM) empowers nonprofits like Cystic Fibrosis Trust to automate manual, paper processes to help their charities increase staff productivity, while continuing to meet security and compliance needs, and to reduce costs while improving staff, donor and volunteer experience.
As an integral part of Cystic Fibrosis Trust's three-year IT strategy, DocuSign will help the nonprofit achieve a digital transformation to automate manual, paper-based processes such as fundraising, HR and other back office paperwork. With DocuSign,' Cystic Fibrosis Trust will empower and enable members, donors and staff to complete paperwork 100% digitally anytime, anywhere, on any connected device. Securely.
DocuSign for Nonprofits will enable Cystic Fibrosis Trust to manage its charitable programs like Gift Aid more efficiently while creating a legally enforceable audit trail that records details of every decision, approval and transaction, including identification of who signed what, and when and where they did so. DocuSign's DTM platform will help Cystic Fibrosis Trust further streamline business operations and reallocate cost and time savings to activities that support its core mission.
"The Cystic Fibrosis Trust exists to make a daily difference to the lives of people affected by cystic fibrosis," says Ed Owen, Chief Executive, Cystic Fibrosis Trust. "DocuSign for Nonprofits allows us to focus on this vital mission by speeding up internal processes and reducing the time and money spent on manual, paper-based administrative tasks."
"At DocuSign, we're focused on our customers and their success by helping change the way business gets done in organizations of every size, industry and geography," says DocuSign Impact Foundation's recently appointed new Executive Director Amy Skeeters-Behrens. "We're delighted to support nonprofits like Cystic Fibrosis Trust in making the world a better place for everyone." (PRNewsFoto/DocuSign, Inc)
On May 21, 2015 DocuSign, Inc. announced that Ms. Skeeters-Behrens had been appointed Executive Director of DocuSign Impact, DocuSign's corporate citizenship initiative launched in March at DocuSign MOMENTUM in San Francisco. Ms. Skeeters-Behrens joins DocuSign following 10 years at eBay where she led numerous citizenship and cause marketing initiatives.
"DocuSign has a tremendous opportunity to transform the world by transforming the nonprofit sector," says Ms. Skeeters-Behrens in a release. "With the power of our products and the passion of our people, we can make a profound difference in the way that nonprofits operate and in their ability to scale their impact."
During her tenure at eBay, Skeeters-Behrens held various leadership positions in the company's philanthropic units. As director of marketing and social innovation, she was responsible for driving cause marketing and sustainable shopping initiatives for eBay North America. Previously, she served as GM for eBay Giving Works, eBay's award-winning fundraising platform that enables buyers and sellers to easily support causes they care about through transactions on eBay. She began her career at eBay as the GM for half.com, an eBay-owned specialty site for physical media. Ms. Skeeters-Behrens has been on the Board of Directors for Habitat for Humanity, Greater San Francisco for the past four years, and previously served as a founding board member of the PayPal Giving Fund.
DocuSign helps more than 100,000 companies across nearly every industry and department make the digital transformation by putting an end to the paper chase. More than 50 million people in 188 countries use DocuSign to manage their most important transactions digitally. DocuSign's DTM platform supports legally compliant signature processes tailored to meet requirements globally with localization in 43 languages.
DocuSign for Nonprofits automates manual, paper-based processes to help charities increase staff productivity, improve security and compliance, and reduce costs. Some of the many nonprofit organizations that have standardized on DocuSign for DTM include the Special Olympics, the World Wildlife Fund, Scottish Autism, American Hospital Association, American Red Cross, Awana Clubs, Code.org, the Federation of State Medical Boards, Free the Children, Kiva, National Public Radio (NPR), The Nature Conservancy, Nike Foundation, Path, Silicon Valley Community Foundation, Wounded Warrior Project, and Xprize Foundation.
DocuSign Facts:
More than 50 million users in 188 countries
More than 100,000 customers
More than 50,000 new unique users join The DocuSign Global Trust Network every day
More than 51% of documents are completed within one hour on The DocuSign Global Trust Network
The Wall Street Journal ranked DocuSign #6 on its list of "Next Big Things" out of 5,900 companies considered
DocuSign offers transaction management services and is the National Association of REALTORS Official and Exclusive provider of electronic signature services under the REALTOR Benefits Program
DocuSign is the official eSignature provider to the Big 'I' and its 250,000 members
10 of the top 15 U.S. financial services companies use DocuSign
13 of the top 15 U.S. insurance carriers use DocuSign
More than 1,000 credit unions use DocuSign
DocuSign is available in 43 languages
To learn more about the DocuSign Impact Foundation, visit:
http://www.docusignimpact.org/
Companies interested in DocuSign's Digital Transaction Management (DTM) platform can get more information at:
http://www.docusign.com
Nonprofit organizations interested in learning more about DocuSign Impact and DocuSign for Nonprofits can visit:
http://www.docusign.co.uk/company/docusign-impact and http://www.docusign.co.uk/nonprofit respectively.
Introductory video can be viewed at:
http://youtu.be/ItfYKS2-xQc
and:
http://bit.ly/1JttjSs
Sources:
DocuSign, Inc.
Cystic Fibrosis Trust
Image Credits:
DocuSign, Inc.
PRNewsFoto/DocuSign, Inc
Cystic Fibrosis Trust