Movie 'Five Feet Apart' Sparks Mixed Reactions Among Cystic Fibrosis Community
Warning: Spoilers for the movie are contained in this story. 
Mention a rare disease milestone — and a new approach to treatment, a new medicine, or even a cure comes to mind.
March 15, though, marks a milestone of a different sort for cystic fibrosis (CF) patients: the debut of a Hollywood film about people with the illness.
"Five Feet Apart" — see the official trailer here — is creating a buzz on social media in the CF community; some love it, some are gnashing their teeth over it, and others have mixed feelings.
Director Justin Baldoni's 116-minute film is a milestone because it's the first wide-release fiction film to hit theaters that takes an in-depth look at CF.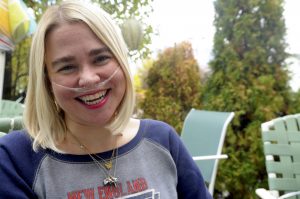 "They did a great job," patient activist Somer Love, 40, told Cystic Fibrosis News Today by phone from Salt Lake City, Utah.
"It's going to bring awareness to a disease that so many people don't know about," said Love, who saw screenings of the film that distributors made available to some in the community before the debut. "It depicts what our life is like, the emotions that we have to go through, and the behind-the-scenes [parts of living with CF] that nobody sees."
The story is about two teens with CF, played by heartthrob Cole Sprouse and Haley Lu Richardson, who fall for each other in a hospital. They know CF protocol dictates they should get no closer than 6 feet to prevent them from catching each other's potential infections. But they fudge on the rule, getting within 5 feet — thus the title of the movie.
Comments on Facebook, Twitter, and Instagram suggest that most people with CF think the film will be a great awareness booster, giving a lot more people an idea of what the disease is, and what challenges it poses. Many of those with CF who like the movie say awareness alone should prompt most of the community to embrace it.
Film scores 54% on Rotten Tomatoes
Still, others contend that it romanticizes the disease and exploits people with CF — and that its sole purpose is to make money. Others say it sends the dangerous message that it's all right to breach the 6-foot patient-to-patient barrier designed to prevent cross-infection. Other critics say the movie suggests that all CF patients are victims because it depicts only people who are very sick — not a broad spectrum of those with CF.
Review aggregator Rotten Tomatoes gave the film an approval rating of 54 percent based on 37 reviews.
"Elevated considerably by Haley Lu Richardson's performance but bogged down by clichés, 'Five Feet Apart' doesn't tug at the heartstrings quite as deftly as it should," it remarked.
Even those in the CF community who like the film have taken issue with how it's been promoted, however. One social media campaign tried to equate the pain those without the disease feel when they're far away from loved ones with the pain CF patients feel from not being able to touch others with the disease.
Love, whom this website profiled in February, said many CF patients will relate to the story's characters.
"I truly believe that people will see a little bit of themselves in each character," she said.
One scene that particularly resonated with her was Haley Lu Richardson's character, Stella, becoming rattled about a medical procedure she would have the next day.
"The anxiety she was feeling that comes across the screen — it's real and it's raw," Love said. "I go through that every time I have a medical procedure."
Critics say movie is one-sided
An even more poignant relatable moment was the death of Poe, a friend of Stella's and of Sprouse's character, Will, played by actor Moises Arias.
"She says, 'I didn't even get to hug him,' " Love said. "That rang so true with me because of the friends I've lost to CF that I was unable to hug. It was devastating."
Gunnar Esiason, who runs the New York-based Boomer Esiason Foundation, said a quarrel he has with the movie is that it shows only one side of CF — that of very sick patients — and not the full range of those with the disease.
Although he has yet to watch the film, he knows the story from reading a novelization by Rachael Lippincott based on the screenplay — written by Mikki Daughtry and Tobias Iaconis — which the producers released in late 2018.
Many of those with CF have "successful careers, are folks who went to top universities and law schools, who have started families and are moving on with their lives," he said in an email interview. The movie fails to depict them, said Esiason, whose foundation was started by his father, pro football player Boomer Esiason, to help those with CF.
Another problem Esiason has with the film is what he calls its unstated antagonist.
"It makes a villain out of the contact precautions," he said, adding that the movie also romanticizes CF by portraying the characters as inspirational. "CF is part of our lives. Patients don't need to be seen as a constant symbol of inspiration."
CFF hopes film will 'inspire'
Despite his reservations, Esiason is encouraging people to see the film.
He added that he believed Baldoni's decision to make the movie was "coming from the right place." The director has said that it grew out of his friendship with Claire Wineland, a CF patient from Austin, Texas, who died of a stroke after a double lung transplant in San Diego at the age of 21.
Drucy Borowitz, MD, vice president of community partnerships at the Cystic Fibrosis Foundation (CFF), said she's thrilled that the movie will raise awareness of the disease.
"The film brings up many themes that are important in the life of people with CF," she said in an email. This includes "how isolating it can be to live a highly medical life, particularly as a young person — from the time people with CF must spend on treatments every day, to the missed trips with friends, to the isolation and emotional toll that any teenager living with a life-threatening chronic illness likely feels."
Borowitz said she hopes "everyone who sees the movie is inspired to become a part of our mission to cure CF and help all people with the disease live full lives in a way that makes sense for them, whether that means going to our website to learn more or volunteering in their local communities."
Rima Manomaiitis, a Denver CF patient who had a double lung transplant two years ago, also liked "Five Feet Apart," although she warned that "it will definitely make you cry."
Those involved in the film's production, she believes, "could have chosen a movie about action or fighting that would have made so much money. But they took a chance on Justin Baldoni's script because they really felt like they could make a difference."
Manomaiitis, 28, told Cystic Fibrosis News Today she hopes the film prompts those who don't have CF to make more donations to fight the disease and get involved in other ways.
As for the movie's imperfections, including a few inaccuracies in portraying the disease, she said, "people with CF are always saying we need more awareness, but when it comes, some don't like it."
The bottom line when it comes to CF, she concluded: "Any press is good press."