12 Famous Cystic Fibrosis Patients
There are a number of celebrities who have been diagnosed with cystic fibrosis (CF), some of whom have shone a spotlight on the disease during their career, using traditional and social media, literature, and other channels to raise awareness.
CF is a genetic and chronic disease that affects the normal function of the lungs and other organs, leading to persistent lung infections and progressive breathing difficulties.
Read on to learn more about these famous people and their fight against CF.
1. Anton Yelchin
Known for playing the character of Pavel Checkov in the 2009 "Star Trek" movie reboot, actor Anton Yelchin was diagnosed with CF at an early age, but his condition wasn't revealed until after his death in a freak accident with his car in 2016, at the age of 27.
Born in Russia, his parents Viktor Yelchin and Irina Korina moved from Russia to the U.S. when he was 6 months old. Family, friends, costars, and directors spoke about his disease in the 2019 documentary, "Love, Antosha." The film paid tribute to the young actor, and how CF drove his career, ultimately seeing him star in 69 movies and TV shows, knowing the disease would lower his life expectancy.
2. Fredric Chopin
It is not fully known if Frédéric Chopin, the famous Polish composer and pianist, actually suffered from CF. However, many investigators believe that Chopin, who lived between 1810 and 1849, suffered from undiagnosed CF.
"Since Chopin's death 140 years ago, no one has questioned seriously the theory that he died of tuberculosis, in spite of the knowledge that many of the physicians who treated his illness considered tuberculosis an unlikely cause of his chronic respiratory disease, which was of at least 24 years' duration," wrote the authors of the study "Was Frédéric Chopin's illness actually cystic fibrosis?"
3. Alexandra Deford
Alexandra Deford was the daughter of American sports writer and novelist Frank Deford. She  died in 1980 at the age of 8. Alexandra was diagnosed at birth with CF and the family struggled with the disease and its side effects. Frank published that story in the book, "Alex: The Life of a Child," which was later adapted into a TV movie. At one point, Deford and the story of his daughter were listed as contributing to the success of the Cystic Fibrosis Foundation.
4. Alice Martineau
Alice Martineau was a British pop singer and CF sufferer who died in 2003 at the age of 30. After being turned down for recording deals due to studios' perceptions of her illness, she was the subject of an hour-long documentary called "The Nine Lives of Alice Martineau," produced by the BBC. Roughly a year before her death, Martineau wrote an article for The Daily Telegraph's Saturday magazine, about the wait for a life-saving triple transplant.
"Even now, I don't think of myself as being all that ill, but I suppose that I am," she wrote. "I am attached to a machine that gives oxygen to me day and night. I only digest about two-thirds of what I eat so I also have a tube in my stomach. I have to have three lots of chest physiotherapy a day. I also have a 14-day course of intravenous antibiotics once a month. I also have to swallow about 40 pills a day. Despite all this, I still tell myself that I am not ill — but someone is trying very hard to tell me the opposite."
5. Nathan Charles
Nathan Charles, who played international rugby for Australia, super rugby for the Western Force and Melbourne Rebels, along with stints in England and France, was diagnosed with CF at the age of 3 months in 1989. Describing himself as the "only professional sportsman in the world who has played an elite contact sport with CF," Charles is a tireless advocate for those living with the disease. Along with working as the executive general manager of the Sydney University Football Club, he volunteers as the national ambassador for Cystic Fibrosis Australia.
Charles describes his mission in life is to do the impossible through a positive mindset, to create awareness about CF by sharing his journey, and finally, to "truly exceed the life expectancy of 37 years (which is the life expectancy of people with CF)."
6. Andrew Simmons
Andrew Simmons, best known as Andy Boy Simmonz, is a British professional wrestler who was diagnosed with CF. The combination may seem unusual, but Simmons, who was born in 1984 and struggled with CF during his childhood, continued to be an active sportsman after his diagnosis. He won various titles, including the Italian Tag Team titles with James Tighe; the FWA British Tag Team titles with the Duke of Danger; the NCW European title; and CWC All In title. Simmons retired from wrestling in 2020 and now teaches classes.
7. Bob Flanagan
Bob Flanagan was an American writer, poet, performance artist, and comic, who died at the age of 43 in 1996. Born in 1952, he died 17 years after his older sister, Patricia, succumbed to CF at just 21 years of age. Flanagan was the protagonist of the 1997 documentary film "Sick: The Life and Death of Bob Flanagan, Supermasochist," directed by Kirby Dick.
One of his most famous quotes was "fight sickness with sickness." Therefore, he explored sexual taboos in his work and was open about his sadomasochist relationship with wife Sheree Rose. Summing up his feelings in the video "Why," written in 1985, he said, "Because I'm sick, because there is so much sickness. Because I was alone a lot, because I was different, because kids beat me up on the way to school."
8. Grégory Lemarchal
Grégory Lemarchal was a French singer and winner of the fourth series of the reality TV program "Star Academy France," who died at the age of 23 from CF in 2007 while waiting for a lung transplant. During his lifetime, Lemarchal became known not only for his music but also as an advocate for the disease.
After his death, the Association Grégory Lemarchal charity was created in his honor to help others fight CF. A month and a half after his death, Lemarchal's posthumous album, "La voix d'un ange" — The Voice of an Angel — including the hit song "De Temps en Temps" was released, with proceeds going to the charity.
9. Gunnar Esiason
Gunnar Esiason is the son of former NFL football player Boomer Esiason. Esiason, who was diagnosed at birth with CF, writes about living with the disease. According to Esiason, he is "a cystic fibrosis and rare disease patient leader, who is passionate about early-stage drug development, patient empowerment and health policy." The Boomer Esiason Foundation has raised more than $160 million in the fight against CF since Esiason was diagnosed with the disease in 1993. As a patient-advocate, Esiason is a public speaker, and has consulted on clinical trial development, a real-world evidence population health study, and a CF-specific mental health and wellness screening tool.
"Today, cystic fibrosis is a very different condition, and it serves as a model for how the gears of industry, academia and patients can come together to alter the course of medical history," he wrote on the foundation website.
10. Karine Dion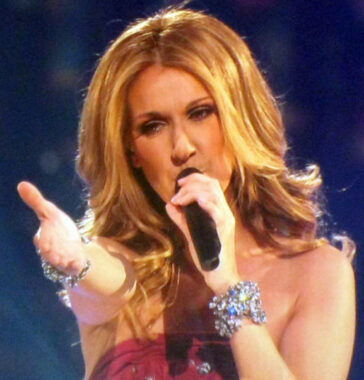 Karine Dion was the niece of Canadian singer and international superstar Celine Dion, who died as a result of CF in 1993 at the age of 16.
Karine was diagnosed at birth with the disease and struggled through her childhood with it. Celine Dion's 1995 album "D'eux" included the song "Vole" about the spirit flying free, which is dedicated to the memory of Karine, who is the daughter of Celine Dion's sister Liette.
Celine Dion is Cystic Fibrosis Canada's celebrity patron, and is an advocate for country-wide CF newborn screening, as well as raising and donating funds for CF research and care.
11. Laura Rothenberg
Laura Rothenberg was a student at Brown University who wrote a book titled "Breathing for a Living: A Memoir," as well as a radio documentary called "My So-Called Lungs," which aired on NPR in 2002. Born in 1981, Rothenberg was aware that she would die young, but tried to have as typical a life as possible, while believing that people did not see her as sick. She underwent a double lung transplant, but a year and a half later, the new lungs started to fail. Rothenberg died in 2003 at the age of 21.
"I definitely think about after I'm gone. When I was younger, I used to try and plan my funeral, where I'd want it, how many people I'd want to be there, what it would be like. I've always been scared that people would forget about me. Eight years go by and, you know, someone who dies isn't the first person you think of when you wake up necessarily. But I'll find a way so that people won't forget about me. You know, I'll give friends things of mine that they'll always have," Laura Rothenberg wrote in one of the many audio diary entries she recorded over two years.
12. Eva Markvoort
Eva Markvoort was a Canadian blogger, famous for her poetic take on her disease, who died of CF at the age of 25 in 2010. Markvoort wrote about her life, having been diagnosed at the age of 1, and about her failed lung transplant in her "65 Red Roses" blog. She was also the subject of a documentary film about her, "65 RedRoses," which tells the story of her wait for transplantation.
Markvoort chose the name 65 Red Roses because young children often find the words "cystic fibrosis" difficult to pronounce, instead calling the disease "65 roses." A resident of New Westminster, British Columbia, Markvoort raised awareness about CF and transplantation to her global audience. She received the Summerhayes Award from the Cystic Fibrosis Foundation, was a recipient of the Queen's Jubilee Service Award, and was recognized in Canada's Parliament for her work.