My Hospital, That Torturous Refuge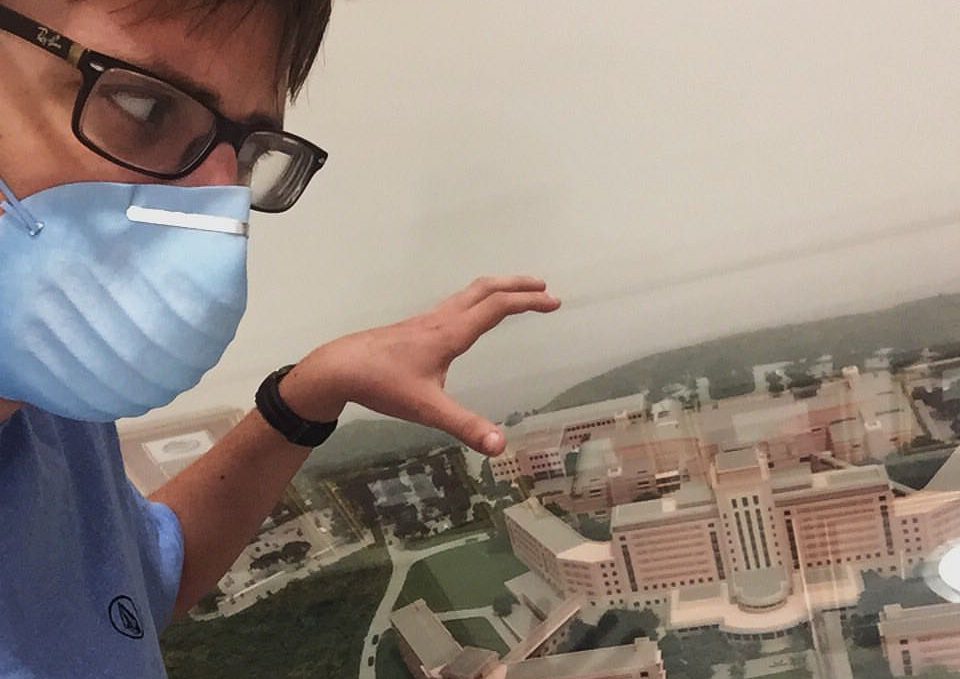 "Ahhh, so lucky! Enjoy your vacation."
Many people thought hospitalizations were times to sit around and cruise the internet; get treated like royalty and served wine. (Nah, I only got rubbing alcohol.) The response was rarely, "I hope you feel better," or, "Let me know if I can help." That's the thing about chronic illness. After a while, people don't see your hospitalization as anything deserving of sympathy because "Brad? Oh, he's always in the hospital." They think receiving news of a hospitalization is as easy for you as it is for them.
It wasn't fun. There wasn't Wi-Fi in my military hospital ("hacking risk"), no cell signal, and there were very few TV channels. Millennial nightmare. And being a military hospital, I was fed the same food as soldiers. The mess halls call it "slop." (OK, it wasn't that bad.)
The hospital was sterile; so sterile that it had a peculiar, indescribable "clean stench" that would cling to my skin for days after I'd leave. And to reflect that sterility, every frigid, tiled room outside the pediatrics ward was white as an Apple Store and filled with as much tech, though not as aesthetically elegant or ergonomic. No, these are machines of the Western medicine philosophy that to heal, patients must first be broken, burned, sliced, stabbed, radiated, ripped. Antibiotics form the basis of cystic fibrosis reactive care — "antibiotics" being Greek for "against life."
Hospitals are places of contradiction. CF doctors commonly stick you into wards so you can "rest." But the nights are pierced by cacophonies of coughing, screeching choruses of IV pump alarms, shrieking babies and toddlers, nurses flipping light switches and yanking on feeding tubes or taking vitals. Student doctors would wake me around dawn to ask me how I'd slept ("Seriously?"). I'd be rewoken an hour later for the student doctors to deliver military-formal reports to the not-student doctors (captains or majors, usually). Always: "He reports he slept well." I did?
With several IV lines running at once, I'd sometimes be restricted from showering, and I'd roll around in puddles of sweat, staining stiff sheets that once smelled like bleach (to remove the sweat stains from the last patient!). I'd transition from hoping friends would visit, to hoping they'd keep away so they wouldn't see their friend looking like a pig in a sty. Or their friend shaken by a bulky Vest and puffing on a nebulizer while a respiratory therapist urges, "Cough out that mucus!" Or their friend interrogated by a doctor who brightly chirps in front of visitors, "So, how are your stools? Greasy? Floating?"
The hospital is where I'd argue with non-CF doctors who insisted they knew my condition better than me. Or argue with respiratory therapists who insisted on changing my treatment routine without specialists' approval. Or argue with psychologists who made ludicrous assumptions based on 30-minute conversations with me. Or argue with my family because we were under constant stress, dead exhausted, and in adrenaline-pumping combat mode.
Since my double-lung transplant, I haven't had a single hospitalization. I don't miss it.
And yet, oddly, I kinda do.
It was uncomfortable but familiar. It was a prison, but also a playground. It's where I was most afraid, but also most courageous. It's where I was surrounded by MDs, yet I felt intellectually confident. It's where I faced death but renewed life. And sure, I argued, but we argue with family, too, no?
I miss the nurses who hung around my room for the sake of hanging out, who said they missed me when I'd return to the ward, who said they wished they could hug me (infection precautions, ya know). I miss my child life specialist who advocated for me against officer doctors, who took me on long walks and let me cry openly without trying to make me stop, who held my hand during procedures even when I was old enough to be called a man.
I miss wandering around parts of the hospital after business hours when no one could stop me. I miss "escaping" with my mom to visit Wendy's for a Frosty. ("They won't miss us for 20 minutes.") I miss my dad slipping me gummy bears when orders were messed up, and I was stuck in fasting limbo for an unnecessarily long time. I miss breaking small rules to keep my sanity.
And I miss the doctors who gave me the rules; those titans in lab coats and camouflaged uniforms. The ones who practiced compassion as often as medicine. The ones who made the tough choices, but also the loving choices. The ones who bit tongues when they made the hard choice. The ones who winked when they gave in to my begging to go home early or ban anyone from entering my room for a couple of hours.
My friends were wrong. The hospital wasn't a vacation. But it was a home.
Join my on my adventures outside the hospital by following my Facebook Page, Adamantium Joy.
***
Note: Cystic Fibrosis News Today is strictly a news and information website about the disease. It does not provide medical advice, diagnosis, or treatment. This content is not intended to be a substitute for professional medical advice, diagnosis, or treatment. Always seek the advice of your physician or other qualified health provider with any questions you may have regarding a medical condition. Never disregard professional medical advice or delay in seeking it because of something you have read on this website. The opinions expressed in this column are not those of Cystic Fibrosis News Today, or its parent company, BioNews Services, and are intended to spark discussion about issues pertaining to cystic fibrosis.