We Don't Get Used to Disease, So We Still Need Your Support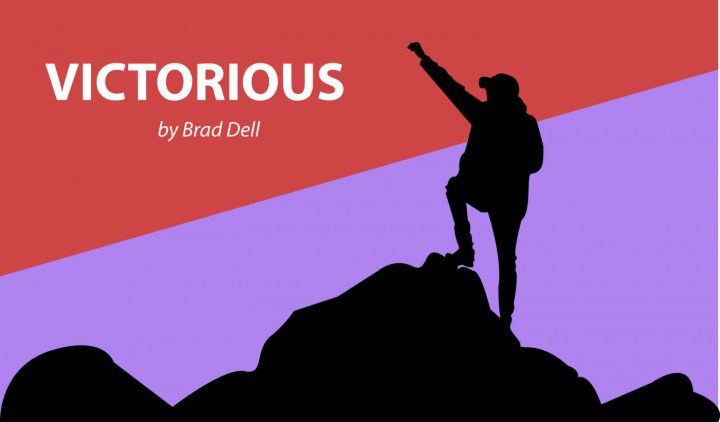 Bradley was a dramatic kid. I'd sit up in bed at night, unable to lie down because it made me cough, and wonder whether Prometheus ever became used to having his liver pecked out each day. I concluded it wouldn't be much of a curse if he got used to the pain. This brought to mind a personally applicable question: If an immortal Titan could barely handle the burden, how could a child?
I came to grips with the idea that I'd always be suffering in some way and tried to accept it as it came, but that doesn't mean I became invulnerable. Sure, I tricked myself into thinking my lack of flinching translated into genuine toughness, but I simply became a talented actor. People's last glimpse as they exited my hospital room was me laughing as I pretended to kick them out of the room. Maybe if they stood by my doorway a while longer, they would have heard sniffling.
By my later teen years, the sniffling was gone and the bitterness sat in my brain, unexpressed. I was still very much bothered, but I'd learned that people tend to support the inspirational dude more than the bothered dude because it's easier.
Yeah, people thought I was tough. They thought I'd grown used to the diseased life. Used to mental illness. Used to the Western medicinal philosophy of destroying a body in order to mend it. Used to suffocating.
The hard support waned as the easy support remained steady. Easy support is words of encouragement on a Facebook wall. Hard support is consistent, in-person encouragement. By the time I entered college, I'd receive maybe two visitors in two weeks, aside from my family and girlfriend. I won't pretend I wasn't frustrated when friends who were new to cancer or disease drew in dozens of visitors and flowers and edible arrangements. (Flowers weren't my thing, but I'll never turn down fruit.)
In my junior year of college, I left the hospital after a three-week stay and realized that not a single person aside from my family and girlfriend had visited. I broke down crying in the hospital parking lot.
Some people said they didn't want to visit me in the hospital because it's hard to be there — it's not a delightful place. I'd reply, "Oh, I know." They didn't seem to pick up on the sarcasm.
In the film "50/50," a caregiver drops off the main character, who has cancer, for chemotherapy. He asks if she'll come in to support him, and she says she doesn't want to mix the "bad energy" with her positivity. When I saw this scene, I leaped from my couch and gestured madly at the screen while yelling at my best friend, "THIS NAILS IT. NAILS IT!"
People prefer to look at disease through the window or the computer screen. They want to glean the inspiration found in disease, but not climb into the trenches with us. When I took a writing class for people with chronic conditions, the professor asked us why illness isn't popular in literature. Students replied that there's nothing romantic about disease when it's described in detail. It's depressing, disgusting, dark — and not in a Shakespearean way.
I'm not bitter anymore, honestly. My friends simply didn't realize, and most woke up when my invisible disease became visible; they've apologized and I've forgiven. I'm writing for all others who currently struggle. It is comfortable for people to assume we are used to disease and no longer need the caliber of support we garnered as children. That is false. Disease may be our normal, but we still experience unfamiliar, terrifying times.
Thinking we are used to things leads to a lack of accessibility and equality; people think we are content in discomfort, which should be an obvious contradiction. Thinking we are used to things leads to sudden-onset or short-term illnesses getting attention that doesn't equal ours. Stroll into any cancer treatment center and compare it to a CF center in terms of furnishing, celebrity visits, food, or fundraising. This isn't to say people with cancer deserve less than us; it's to say we deserve equal care.
Thinking we are used to things leads to us feeling abandoned and unheard. If we were used to everything, why would we have towering rates of anxiety and depression?
I sat with a wise friend many weeks ago, and he asked what my greatest anxiety is. I told him I know that an end to my good streak of health is inevitable, and I feared I'd end up in an empty hospital room now that my family lives in another state and I no longer have a girlfriend. The thought fell from my mouth as an instinctive response, straight from the id, surprising even myself. It got me thinking.
Last Monday, I sat in a counseling group as we discussed traumatic experiences and the way they've left an imprint on our lives. While reviewing my nightmares and most traumatic memories — always me suffering alone in a situation without resources or support — I suddenly realized my greatest fear in life is abandonment.
I wonder why.
***
Note: Cystic Fibrosis News Today is strictly a news and information website about the disease. It does not provide medical advice, diagnosis, or treatment. This content is not intended to be a substitute for professional medical advice, diagnosis, or treatment. Always seek the advice of your physician or other qualified health provider with any questions you may have regarding a medical condition. Never disregard professional medical advice or delay in seeking it because of something you have read on this website. The opinions expressed in this column are not those of Cystic Fibrosis News Today, or its parent company, BioNews Services, and are intended to spark discussion about issues pertaining to cystic fibrosis.