Finding Fate in the Fallout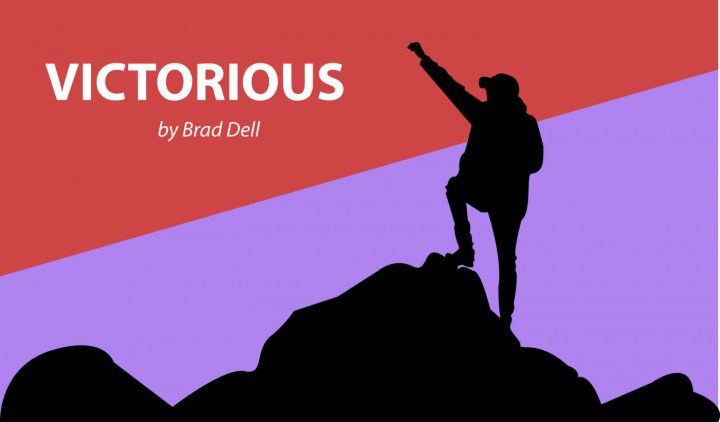 In my last column, I described how nearly dying made me a better person. That might imply that I flipped a brain switch to become a more rad version of Brad overnight, but that's not how it happened. During my lung transplant journey, I strived to better my character, but I didn't yet know what to do with my life.
In February 2016, I became Deaf. In September 2016, I moved from Hawaii to California for my double-lung transplant, leaving behind my friends and my journalism career. Surgeons gave me new lungs in January 2017. They then placed cochlear implants in October 2017, which restored my hearing, but in the same week my girlfriend of six years left me.
For months, I wandered dazed and confused, in limbo between old and new lives.
Unable to cope healthily, I chose to drink at a New Year's Eve party on Dec. 31, 2017. I'd never had alcohol before then, so I sampled a cup of this and a cup of that — then, a whole lot of this and a whole lot of that.
Two hours deep into 2018, I sat awhile with two strangers. They soon kissed and folded over each other so tightly that I felt claustrophobic. Stumbling past them, I fell through a door, out into the street. Cross-legged, I gazed up at the dark expanse and felt so very small and cried a little, wondering why I'd fought for my life only to be heartbroken and aimless. I felt robbed of my childhood, robbed of opportunities to goof off, robbed of identity. The thieves — cystic fibrosis, anxiety, depression, deafness — didn't seem to leave much for me to work with.
I grieved the loss of me. Champagne bubbled through my veins as I thought cynically that one's life, at its roots, is nothing more than a marketing campaign: we do this or that to establish this or that reputation. I recalled my streak of teenage rebellion — graffiti — and how I almost wanted to get caught just so someone could ask me why I'd done it. Maybe I'd have admitted I wanted to be anything other than "the guy with the disease." I'd figured that doing something radically rebellious would override my reputation as fragile and sick. Plus, the accompanying adrenaline rush seemed to be all that pierced through my teenaged depression.
Drunkenness punts me between self-pity and extreme confidence. Abruptly, after my self-loathing dulled, the night air felt pregnant with opportunity. I was ready to pivot into a life-altering trajectory. That night, I chose to be the person who asks a teenager why he does graffiti. I wanted to be the one to smile at his reason, and then share empathy. In 2018's dawn, I made the resolution to be better not only for myself but for these teenagers I didn't yet know.
Hours later, I announced to my parents that I drank a lot the night before. (We have an odd relationship.) They didn't really believe me: "You're too cheerful to be hungover." Not long after, I signed up to volunteer with my church's youth group.
No, I don't teach students that alcohol leads to life answers.
It's been two and a half years since I began volunteering. My start as a mentor was rocky and awkward — teenagers are intimidating beasts — but soon I realized that the skills I'd developed to survive cystic fibrosis formed wisdom I could pass on to help teens to thrive.
On Dec. 31, 2017, I felt helpless and so I decided to be helpful; I felt hopeless, and now these teenagers make me hopeful. We can trigger change in our future world by investing in youth. It takes only one politician to revolutionize a nation, one scientist to invent a cure, one doctor to save a life. The teens with whom I share life could be politicians, scientists, doctors. Or maybe today they do graffiti and simply want someone to listen to them, so they can one day listen to another.
Recently, I guided two anxious teenagers through exercises that helped teenaged me navigate high-stress medical crises. One shared the realization that she was finally finding her trajectory; in the fallout of a brutal season, she dreamed of ways to convert her suffering into another person's gain. She wondered aloud if one day she would be an adult helping a teen with anxiety. The other teen — feeling aimless after graduating high school amid a pandemic — resolved to become a youth leader so he could become the mentor he most desired to have during his high school days.
Cycles.
Sometimes it's in the fallout of a collapse that we find our purpose. When returning from hospitalizations, transplants, exacerbations, pandemic lockdowns, take time to sit with yourself and wonder who you want to reenter the world as. What's your mission for your new season of life?
***
Note: Cystic Fibrosis News Today is strictly a news and information website about the disease. It does not provide medical advice, diagnosis, or treatment. This content is not intended to be a substitute for professional medical advice, diagnosis, or treatment. Always seek the advice of your physician or other qualified health provider with any questions you may have regarding a medical condition. Never disregard professional medical advice or delay in seeking it because of something you have read on this website. The opinions expressed in this column are not those of Cystic Fibrosis News Today, or its parent company, BioNews Services, and are intended to spark discussion about issues pertaining to cystic fibrosis.