How Much CF Do You Choose to Show?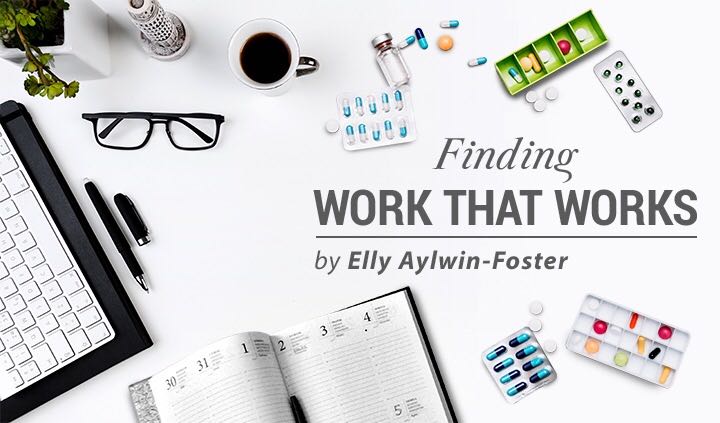 Getting older has its perks. 
With each passing year, I find I'm a little more willing to reveal. 
I feel more open to showing my true skin. I used to conceal it with foundation, eyeliner — the whole works. Now, I only cover the dark circles under my eyes and add the lightest blush to pale cheeks. 
I'm more open to showing my flaws and discussing my weaknesses. I've never been one to project a picture of a perfect home, but I find myself more willing to discuss the reality behind the facade of life online.
There is one area I've worked especially hard to show truth in, the most invisible of them all: My life with cystic fibrosis.
How much do you choose to show of an illness that is largely hidden? And if you want to show it, what is the right way?
Ever since starting my blog Professional Sick Girl in 2013, I've tried to discuss CF alongside my career. At first, I did it fleetingly. Then last year, I went big. I decided to show the visual tells of CF as honestly as I could.
Let me tell you about one such occasion. 
It was a Friday afternoon. Few people were left in the office as the clock approached 4. Some had rushed to join families for the long summer weekend; some were getting ready for a protracted evening in the pub. 
It was time.
I reached down to the bag by my leg and started to assemble the vials. Just then, my managing director approached my desk.
"Do you have half an hour to go over this?" he asked.
I glanced at the papers he held, doing quick calculations in my head. This morning's dose was late already; I couldn't miss this one. No, I just had to get it over with.
I met his eyes squarely as I rolled back my sleeve to show the intravenous access line in my arm. "Of course. Do you mind if I take my afternoon antibiotics while we talk? It won't take long at all, but I can't miss a dose." 
He was already aware of my CF, but had rarely seen evidence of it. I admired how quickly he quashed the surprise on his face. I am a much more open book. 
My heart was beating fast with the vulnerability I had displayed in showing my complex medical reality, so I don't remember his exact response. But I know he smiled and assured me it was no problem.
And so, for the next 20 minutes — though it felt like an hour — we sat, along with another colleague, in a glass-fronted meeting room. We discussed business while I mixed and injected large quantities of liquid antibiotics into the tiny plastic tube in my arm.
It was a turning point in the way I handled my illness. Ultimately, why shouldn't we show our tells when the alternative is to inconvenience ourselves or put off our treatment?
At the time, I think I needed to reclaim a little power for myself, so strong were my past fears of revealing CF at work.  
I'm not advocating for others to do the same; how you reveal or disguise your CF around others is entirely your business. It's interesting to me that I felt powerful instead of vulnerable in that moment. Despite that, I'd prefer not to do it again.
Truthfully, I am still working on that balance of what to show and what not to. What I do know, however, is that what others think or assume no longer holds power over me.
Whether to show or hide is nobody's choice but mine.
***
Note: Cystic Fibrosis News Today is strictly a news and information website about the disease. It does not provide medical advice, diagnosis, or treatment. This content is not intended to be a substitute for professional medical advice, diagnosis, or treatment. Always seek the advice of your physician or other qualified health provider with any questions you may have regarding a medical condition. Never disregard professional medical advice or delay in seeking it because of something you have read on this website. The opinions expressed in this column are not those of Cystic Fibrosis News Today, or its parent company, BioNews Services, and are intended to spark discussion about issues pertaining to cystic fibrosis.