CF Yogi Offers Free Live-streamed Weekly Classes to Bolster Lung Health and Healing Energy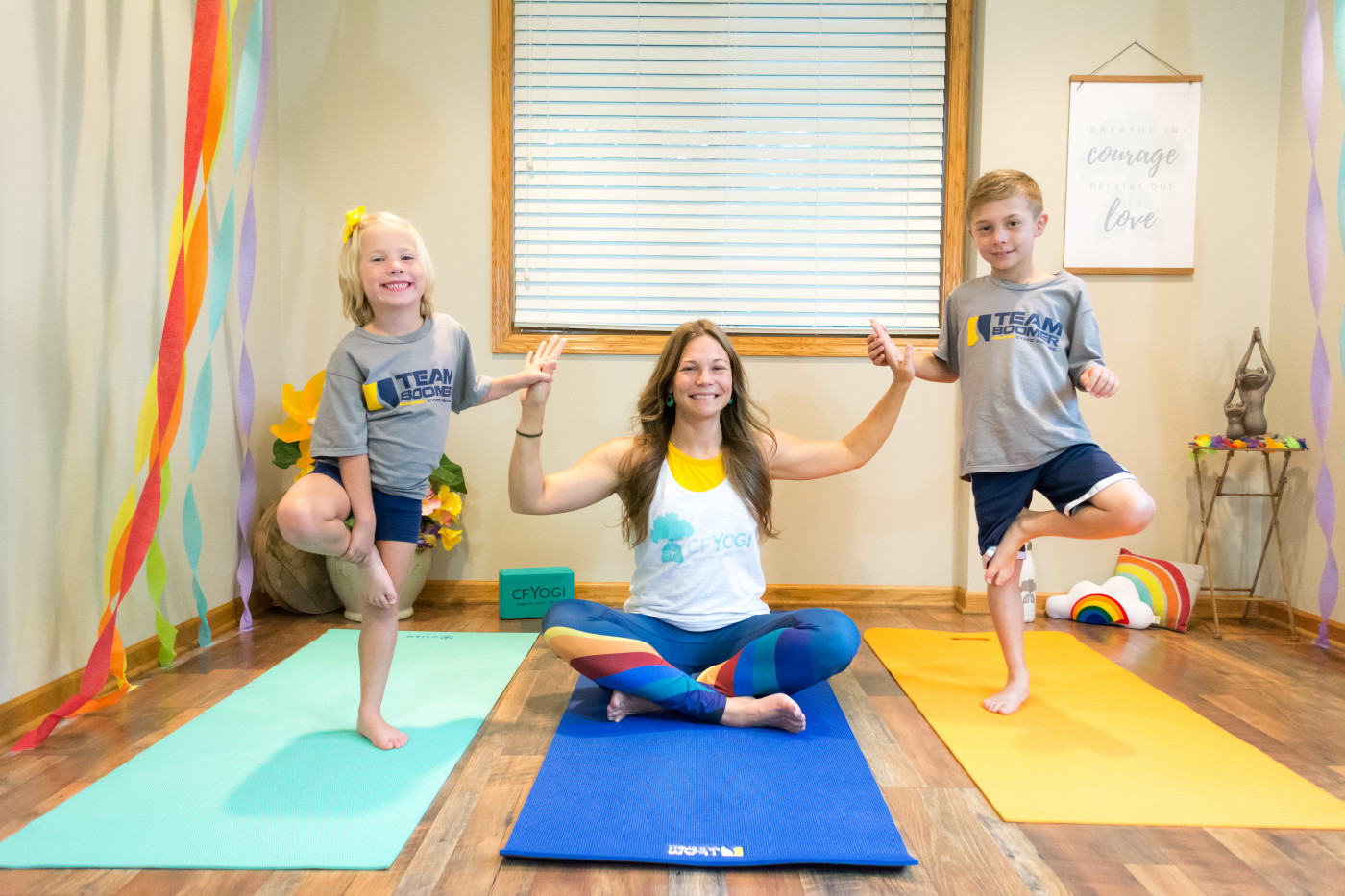 To put it in yoga-speak, instant karma greeted the co-founders of CF Yogi — Myra Giaffoglione of Glenwood, Iowa, and Elaine Malik of Seattle — when they spoke for the first time in the spring of 2018.
Malik, 40, and Giaffoglione's two kids, 7-year-old Jack and 6-year-old Abigail, have cystic fibrosis (CF) — a genetic disease that causes thick mucus to build in the lungs, pancreas, liver and intestines. With their shared adoration of yoga, the two hit it off.
"You meet people in your life and suddenly realize two hours have passed," Malik told Cystic Fibrosis News Today in a phone interview.
The two women were already on the same track, hoping to get approval for a $10,000 impact grant from the Cystic Fibrosis Foundation (CFF) to bring yoga to the CF community at no charge. Within 24 hours of that first encounter, Malik and Giaffoglione had submitted the application they co-wrote.
The CFF approved both, and CF Yogi, a non-profit that offers free weekly and live-streamed classes to the CF community via Zoom, was born.
About 300 people signed up for the CF Yogi class within three days of its January 2019 launch, and the group is fast approaching 1,000 sign-ups in its first year. Giaffoglione and Malik, both yoga teachers themselves, have brought on five other trained instructors, all with CF.
CF Yogi received support from the Boomer Esiason Foundation to hire its fifth teacher, and double the number of classes last May. Class offerings run the gamut from multi-level flow, which uses breath linked motion, to yoga for CF kids and gentle yoga, a less physically intense version. 
The benefits of yoga for CF patients, according to the two founders, are physical health (breath control, lung function, and self-monitoring), mental health and awareness, and spiritual heal.
Malik recently taught a series of classes on rest and digestion in response to patients beginning Trikafta, a CFTR modulator therapy developed by Vertex Pharmaceuticals that combines elexacaftor, ivacaftor and tezacaftor. Trikafta was approved in October 2019 by the U.S. Food and Drug Administration, and able to treat an estimated 90% of all with this disease.
For Giaffoglione and Malik, CF Yogi is as much about building up a community as it is improving CF patients' health. People with CF, the CFF advises, must stay at least six feet apart to lower the risk of cross-infection. The online connection bridges that physical limit.
"At the time there wasn't anything at all like what we were offering with live classes," Giaffoglione said. "Bringing people together in a live space has been pretty awesome."
One mother, preferring to remain anonymous, regularly attended CF Yogi's online classes to try to learn coping strategies for her daughter with CF, who was anxious about procedures at a local clinic. She eventually reached out to Giaffoglione and they set up a one-on-one session to help calm the girl. 
Malik, an opera singer, wrote a song for the girl to remember: 
Noticing my fingers, noticing my toes
Listen to the breath in my throat and nose
I am safe, I belong
I am love and love is strong
She also taught her a calming mantra taken from Kirtan Kriya, a mindfulness practice that combines sung words (Sa, Ta, Na, and Ma) with physical movement.   
"It's OK to just live and be present, to just enjoy the time that you have," Malik said. 
Pamela Scarborough, a physiotherapist, said it is difficult to standardize a yoga practice, since they vary depending on instructors' methods. That has led to a shortage of research on CF and yoga, said Scarborough, founder of Beam, an on-demand video exercise platform for people with CF and other conditions.
A 2015 pilot study with 11 CF patients found a standardized yoga practice safe and "well-tolerated" by adolescents and young adults. Another research study concluded that yoga for children with CF could ease anxiety and joint pain.
In CF Yogi's first annual impact blogpost, a self-reported survey showed that 98% of participants felt classes help with relaxation, 95% in flexibility and peace of mind, 88% with strength and balance, and 80% in lung function.
While CF Yogi does not charge for people taking part in the streamed classes, donations are welcome.