Elexacaftor Also Works as CFTR Potentiator, Study Says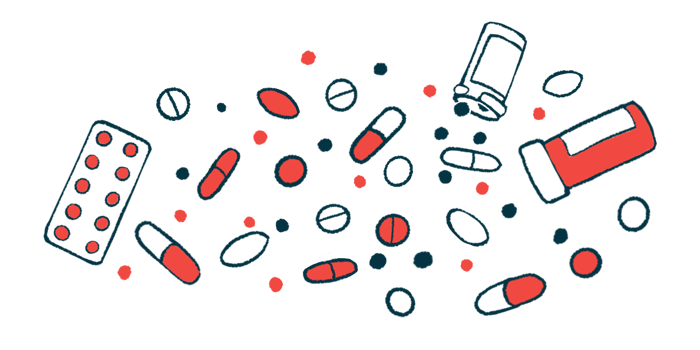 Elexacaftor (VX-445), a next-generation CFTR corrector that is part of the triple-combination therapy Trikafta, is also a potentiator, a study reports.
Results further showed that in combination with ivacaftor, sold as Kalydeco and also a potentiator, elexacaftor boosts ion flow across CFTR, the channel protein that is defective in people with cystic fibrosis (CF)
These findings support the therapeutic potential of this new combo, scientists said.
The study, "Elexacaftor is a CFTR potentiator and acts synergistically with ivacaftor during acute and chronic treatment," was published in the journal Scientific Reports.
CF is caused by mutations in the CFTR gene, which carries instructions to make a protein of the same name. This protein acts as a gate in the transport of charged ions and water across cell membranes.
CF-causing mutations result in the faulty production of the CFTR protein. Depending on the mutation, the encoded protein can be affected in different ways.
CFTR modulators are a specialized group of CF therapies. Potentiators and correctors are two of the main types of this treatment. CFTR potentiators work to restore channel activity, by keeping it open longer in a correct conformation to facilitate the flow of chloride ions. Kalydeco, by Vertex Pharmaceuticals, belongs to this group.
The CFTR protein needs to fold into a precise 3D structure to work properly. CFTR correctors, which include lumacaftor (VX-809) and tezacaftor (VX-661), assist the protein in folding correctly into its 3D shape so that it can reach the cell surface to function properly.
Elexacaftor is one of the two correctors — along with tezacaftor — that are combined with the CFTR potentiator ivacaftor in Trikafta. Notably, tezacaftor and ivacaftor also are combined in a treatment called Symdeko. As Trikafta has shown greater efficacy than Symdeko in people with CF, researchers have interest in better understanding how elexacaftor works.
Prior studies have indicated that elexacaftor and tezacaftor act differently in stabilizing the mutated CFTR protein. In fact, recent evidence suggests that elexacaftor also may act as a CFTR potentiator, but questions such as whether it can be effective in the long term remain unanswered.
In this study, researchers at National Jewish Health, in Denver, further investigated the mechanism of action of elexacaftor.
Results in human nasal cells showed that elexacaftor potentiated the passage of ions across the cell membrane, in a CFTR-dependent manner, supportive of its additional role as a potentiator.
Also, in agreement with what is known for potentiators, elexacaftor's boost of transport across the cell membrane was seen only when it was applied to the apical side of the airway surface, where CFTR is located.
This increase in the flow of ions with elexacaftor was not seen with other CFTR correctors. In addition, the dual action of elexacaftor was maintained in Fischer rat thyroid (FRT) cells, a widely-used cell model of CF.
The researchers then tested the effectiveness of elexacaftor as a potentatior in the presence of the G551D mutation, the most prevalent gating mutation in CF. This type of mutation results in a CFTR protein that is present at the cell surface, but does not open or close normally.
Using FRT cells, they compared the effectiveness of elexacaftor to that of ivacaftor, which, as Kalydeco, is used to treat patients with the G551D mutation.
When applied alone, both therapies boosted the channel's activity. However, this was significantly greater when they were combined. Specifically, the effectiveness of ivacaftor nearly doubled when combined with elexacaftor, while that of elexacaftor was over fivefold greater when combined with ivacaftor.
Similar effects were seen in cells from a patient with the G551D mutation in both CFTR gene copies. Chronic treatment with elexacaftor and ivacaftor increased CFTR activity to the same levels as chronic treatment with the triple combination that forms Trikafta.
The potentiator effects of elexacaftor were maintained in the FRT cell with the R117H mutation, another gating mutation. Once again, the combination with ivacaftor resulted in the greatest increase in ion flow.
Overall, "we have uncovered a novel mechanism of action for VX-445 [elexacaftor] as a CFTR potentiator in addition to its previously established mechanism of action as a CFTR corrector," the researchers wrote.
"We have shown that when used as a CFTR potentiator, VX-445 has a significant impact in restoring channel function to multiple classes of CFTR mutations. Notably, when used in combination, VX-445 and VX-770 [ivacaftor] act synergistically to improve ion conductance through mutant CFTR," they added.
These findings suggest "that a new combination therapeutic of ivacaftor and elexacaftor could have broad impact on CF therapies," they concluded.