GERD Treatment May Raise the Risk of Respiratory Infection: Study
Long-term use of proton pump inhibitors linked to more hospitalizations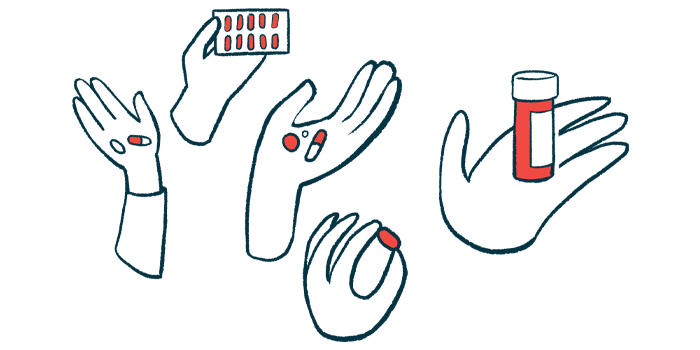 Prolonged use of certain medications used to treat acid reflux, called proton pump inhibitors (PPIs), may put people with cystic fibrosis (CF) at higher risk for Pseudomonas aeruginosa infection, according to a single-center study in Italy.
Long-term treatment was also associated with more hospitalizations for pulmonary exacerbations, or episodes of a sudden worsening of respiratory symptoms, and no beneficial effects on nutritional status were observed in patients.
Based on these findings, researchers recommend careful consideration of the treatment's potential benefits and risks before use in CF patients, especially those with no prior infection with P. aeruginosa — a hard-to-treat bacteria that commonly infects the lungs of these patients.
The study, "Effects of prolonged proton pump inhibitor treatment on nutritional status and respiratory infection risk in cystic fibrosis: A matched cohort study," was published in the journal Digestive and Liver Disease.
CF is caused by mutations in CFTR, a gene that codes for the CFTR protein which is responsible for controlling the flow of water and salts through cells. Defects in this protein result in the production of thick mucus that accumulates in the lungs and several other organs, including the pancreas.
As a result, around 80% of CF patients develop exocrine pancreatic insufficiency, in which the pancreas is unable to release digestive enzymes to break down food in the intestines.
This can affect the ability of patients to absorb enough nutrients and calories from their diet, so they are often advised to take artificial enzymes through pancreatic enzyme replacement therapy (PERT). However, some patients continue to experience digestion problems and nutritional deficits.
"Gastroesophageal reflux disease (GERD) is another common gastrointestinal problem amongst [people with CF], being observed in around 20% of infants and in more than 50% at adult ages," the researchers wrote.
Proton pump inhibitors used to reduce gastrointestinal problems
PPIs, a group of medications that reduce the production of acid in the stomach, are commonly prescribed to CF patients to lessen gastrointestinal problems. They are also used as an add-on therapy for those who fail to respond adequately to PERT, as they may improve the efficacy of PERT "by reducing the acidity in the gastrointestinal tract, although evidence on their efficacy is limited," the researchers wrote.
However, PPI use in CF has been associated with side effects, including a higher risk for pneumonia, diarrhea caused by the bacterium Clostridium difficile, bone fracture, and multiple vitamins and mineral deficiencies. A potential link to lung infections is less clear.
Few studies have assessed the tolerability and safety of PPIs in people with CF.
Now, a team of researchers in Italy have evaluated whether PPI use in CF patients is linked to a higher risk of lung infections and pulmonary exacerbations due to certain bacterial infections and whether the medications improve the nutritional status of patients.
The researchers retrospectively analyzed clinical data from 80 CF patients taking PPIs for at least three months between 2015 and 2019, and 80 patients who had never taken PPIs and who served as controls. Patients in the control group were similar in sex, age, type of CF mutation, and pancreatic insufficiency compared to the PPI group.
All patients were followed at the regional reference CF center in Milan, Italy. Age range was 1 month to 31 years for the PPI group and 1 month to 28 years for the control group.
Patients were treated with PPIs for an average of 23 months, or nearly two years (range was three months to five years). Most took PPIs to treat GERD, while seven patients (8.8%) used them as an add-on treatment.
Omeprazole (sold as Prilosec and Losec, among others) was the most commonly prescribed PPI (61 patients, 76.2%). Nearly half of PPI-treated patients (46.3%) stopped treatment before the end of the study, mostly due to symptom resolution.
PPI-treated patients at double the risk for P. aeruginosa infection
Results showed that the rate of bacterial infections at baseline (the start of the study) was similar between PPI and control groups. However, significantly more PPI-treated patients were affected by P. aeruginosa infections at the end of follow-up (47.5% vs. 26.3%), representing a nearly twofold increased risk.
No clear link was found between P. aeruginosa infections and treatment duration, but patients treated for one to 1.9 years had a higher risk compared to those treated for a shorter duration.
While the rate of pulmonary exacerbations during follow-up did not differ significantly between groups, a greater proportion of patients given PPIs were hospitalized due to pulmonary exacerbation (52.5% vs. 30%).
At baseline, treated patients had higher body mass index (BMI) values, a measure of body fat, than untreated patients. But after adjusting for baseline BMI values and other potential influencing factors, no significant differences between groups were detected for BMI changes over time.
These findings show that prolonged use of PPIs for the treatment of GERD is "associated with a two-fold increase in the risk of Pa [P. aeruginosa] infection and with more frequent hospital admissions for pulmonary exacerbations, while no positive effects on growth and nutritional status were observed," the researchers wrote.
"Benefits on quality of life due to reduced GERD symptoms should be balanced against the risk of Pa infection, especially in patients" without previous P. aeruginosa infection, the team wrote. "In these patients, a periodic and appropriate assessment of GERD signs and symptoms and careful microbiological surveillance is strongly recommended."