Change in CF Treatment Patterns in UK Seen With Use of Kalydeco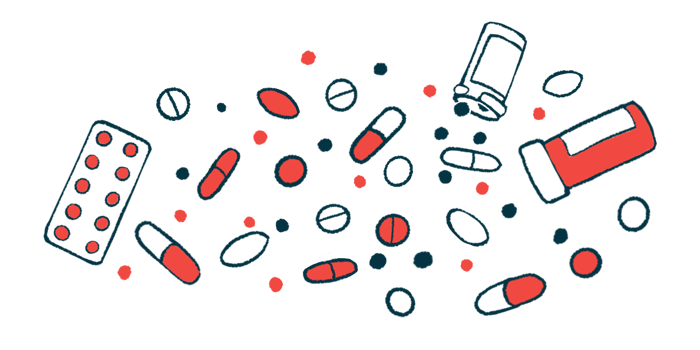 Since the introduction of Kalydeco (ivacaftor) in the U.K., marked changes in treatment patterns for cystic fibrosis (CF) patients using the medication have become noticeable over time, a study reported.
Specifically, people treated with Kalydeco were less likely to continue with other treatments, such as inhaled antibiotics or Pulmozyme (dornase alfa).
The study "Treatment patterns in people with cystic fibrosis: have they changed since the introduction of ivacaftor?" was published in the Journal of Cystic Fibrosis.
Kalydeco, a CFTR modulator, is widely approved to treat CF in people with specific disease-causing mutations. The medication works by helping to "open" the CFTR protein, which normally functions like a gate on the surface of cells and is defective in CF.
Kalydeco was first approved by the European Medicines Agency in 2012, and it has been prescribed as standard care in the U.K. since 2013. The initial approval, limited to patients 6 years and older with a specific gating mutation, has since been expanded to include a broader age range and more eligible mutations.
Clinical trials and real-world data have shown that Kalydeco can improve lung function in eligible patients. However, little is known about how Kalydeco treatment influences the use of other treatments for CF.
A trio of researchers in the U.K. analyzed data from the UK Cystic Fibrosis Registry collected between 2007 and 2018 to address this question. They hypothesized that the introduction of Kalydeco in the treatment landscape changed the long-term use of other key CF therapies.
"Understanding the association between ivacaftor [Kalydeco] use and ongoing prescription of other chronic treatments is important both from a treatment burden perspective and to appropriately inform health technology appraisals. National registries such as the UK CF Registry provide the opportunity to track these changes," the team wrote.
As other treatments, researchers specifically looked at inhaled antibiotics, oral antibiotics, dornase alfa, hypertonic saline, and supplementary feeding.
In the "pre-Kalydeco era" (2007-2012) — before its approval — the team identified 287 individuals with eligible mutations, as well as 3,874 with ineligible mutations.
In this period, treatment patterns in these two groups were generally very similar. For instance, in 2007, about half of patients in both groups were prescribed inhaled antibiotics; by 2012, this proportion was about two-thirds in both groups.
Use of the mucus-thinning agent Pulmozyme also rose similarly across both groups from 2007 to 2012.
Things changed once Kalydeco became available. The researchers identified 402 people with eligible mutations who were treated with Kalydeco from 2013–18 (the "Kalydeco era"); they were compared with 6,588 patients with ineligible mutations using other treatments.
In both groups, the use of inhaled antibiotics dropped from 2013 to 2018, but this decrease was much sharper among those on Kalydeco. Whereas about 65% of patients in both groups were prescribed inhaled antibiotics in 2013, 40% in the Kalydeco group and 56% in the ineligible group were using inhaled antibiotics in 2018. Similar changes were observed for the use of chronic oral antibiotics.
Furthermore, use of Pulmozyme and hypertonic saline continually increased from 2013 to 2018 among Kalydeco-ineligible patients, and decreased in those treated with Kalydeco.
The use of supplementary feeding largely remained flat over this time period in both groups, although the proportions were lower in the Kalydeco-treated group.
"Once ivacaftor was introduced, the use of other treatments tended to decrease or remain stable by year for the ivacaftor-treated cohort, whereas it remained stable or increased in the non-ivacaftor-treated cohort. This led to differences in treatment use between the two cohorts in the ivacaftor-era, which became more marked over time," the researchers concluded.
The team noted a need for more research into how these changes in treatment might be associated with clinical outcomes, which they said would be important for helping patients and clinicians make informed choices about long-term care.
Among study limitations, the researchers noted that they looked at groups of patients in different "eras," rather than comparing the same patients over time. It also did not account for potential demographic or clinical differences between its two groups, outside of genotype and treatment.
Kalydeco is marketed by Vertex Pharmaceuticals, and the company was not directly involved in this study.