Twincer Inhaler May Be Better Alternative to Nebulizers for Colistin Treatment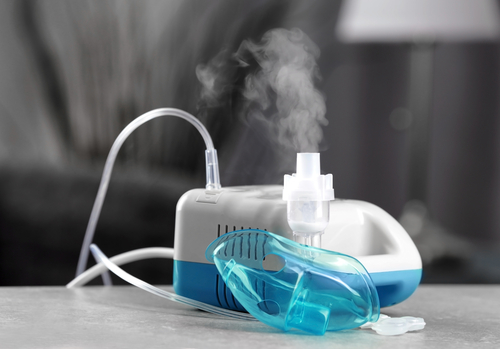 Twincer, a dry powder inhaler (DPI), was shown to be a more attractive approach for the inhalation of colistin — an antibiotic used to treat lung infections in people with cystic fibrosis (CF) — when compared with a nebulizer, according to a new study.
The findings were reported in "Colistin dry powder inhalation with the Twincer™: An effective and more patient friendly alternative to nebulization," a study published in the journal PLOS One.
Using a nebulizer, a small device that turns liquid medicine into a mist, is the most common method of administering inhaled antibiotics as a treatment for CF patients infected with the bacteria Pseudomonas aeruginosa.
However, DPIs are a more patient-friendly option because they have a much shorter administration time, are more stable, do not require an external power source or refrigeration, and are three to six times more efficient. Notably, it takes about 1–2 minutes per dose to administer colistin with Twincer, compared with 10-20 minutes with a nebulizer.
Twincer is a DPI designed by Indes for the inhalation of colistimethate sodium, known as colistin. It is a disposable inhaler for a single use that allows the delivery of relatively high doses of antibiotics.
A team at the University of Groningen, in the Netherlands, hypothesized that Twincer use could potentially increase patient satisfaction and treatment adherence among CF patients, thus leading to improved clinical outcomes compared with nebulized antibiotics.
To test their hypothesis, the researchers retrospectively analyzed clinical data of 21 adults with CF who were treated with colistin through both methods. The effectiveness and tolerability of the delivery methods were assessed, along with patient satisfaction and adherence to the treatment.
In terms of treatment effectiveness, lung function was assessed through the mean annual decline in predicted forced expiratory volume in one second (ppFEV1) — the amount of air a person can exhale in one second — and the occurrence of exacerbations or disease aggravations.
These parameters were analyzed during a one-to-five-year treatment period with nebulization therapy before the beginning of treatment with Twincer, and a mean of 1.7 years of treatment with the dry powder inhaler.
Results showed that the mean annual decline in ppFEV1 was 1.1% during nebulization treatment, while this value was 2.2% with Twincer therapy. This difference prior to and after starting Twincer treatment was not statistically significant.
However, the team noted a confounding factor in the effectiveness analysis: during the study, four patients started treatment with cystic fibrosis transmembrane conductance regulator (CFTR) modulators. These therapies, designed to address the underlying cause of CF according to the specific defect in the CFTR protein, may have led to an improvement in lung function, the researchers found.
When removing these individuals from the analysis, the researchers observed a significant change in lung function decline between patients before and after starting Twincer. Specifically, the mean annual decline in ppFEV1 during nebulization therapy was 2.5% prior to using the Twincer and 1.1% after.
The rate of exacerbations was assessed by the number of treatments with intravenous (into-the-vein) or oral antibiotics needed during the study period.
These results revealed that the number of intravenous treatments was 1.51 per year during nebulization and 1.67 per year with the Twincer. The number of all treatments (intravenous and oral) was 2.70/year during nebulization and 2.28/year during Twincer treatment, suggesting no significant difference between the two treatments.
The effectiveness of Twincer inhalation was evaluated by inspecting the discharge of colistin from the used Twincers to determine how much colistin remained in the device after inhalation. The results showed that the majority of the Twincers (89.8%) had an "adequate to very good" discharge. Only 0.5% had an "inadequate or very poor" discharge score while 9.7% had a "moderate or poor" discharge.
Regarding treatment adherence, of the 21 patients who started with the Twincer, five stopped treatment in two months due to side effects; the remaining 16 showed a good tolerability to the treatment. Of note, the five patients discontinuing treatment had previously been intolerant to colistin and tobramycin nebulization therapy due to cough or breathlessness.
"In general, cough, throat irritation and unpleasant taste are known side-effects of dry powder therapies, not only in DPI colistin but also in DPI tobramycin," the researchers wrote. "It is thought that cough generally reduces over time with improved technique."
As for patient satisfaction, 71.4% of the patients preferred therapy with the Twincer, reporting it as a more convenient and time-saving method.
However, the results should be interpreted cautiously, the team noted, as data on patient preference were only available on those who continued with Twincer, not from patients who stopped the treatment. Further, "although DPI treatment seems to be generally preferred over nebulization, patient satisfaction will depend on the specific type of dry powder inhaler used," the researchers wrote.
Adherence to the Twincer treatment also also higher, with an average rate of 92.5%, the results showed.
"Unfortunately, we do not have information about the adherence during nebulization therapy. Literature shows adherence rates during nebulization therapy around 65–80% via self-reporting, 50–60% via clinician reporting and 36% via electronic download, indicating a much higher adherence rate of Twincer therapy," the team wrote.
The scientists believe that such high adherence to the Twincer treatment could in part be linked to the periodic follow-up these patients underwent.
Overall, "our real-life evaluation study, with a small number of patients, shows that colistin dry powder inhalation using the Twincer is a patient friendly alternative to nebulization, with no significant differences found in the clinical outcome regarding lung function decline and exacerbation rates," the team concluded.
The researchers acknowledged several limitations to their study, especially its small sample size. Thus, further studies are needed to confirm these findings.