Kalydeco May Be as Effective for CF at Lower Dosage, Study Finds
Some patients found to have higher-than-needed therapy levels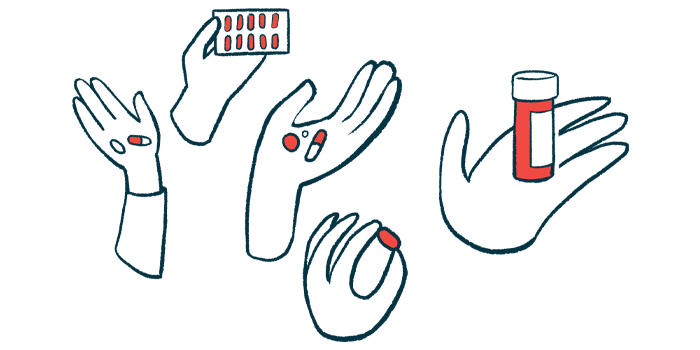 People with cystic fibrosis (CF) treated with Kalydeco (ivacaftor) may have higher levels of the medication in their body than is needed for a therapeutic effect, according to a new study.
"A key finding of our study revealed that some patients have higher than expected [Kalydeco] concentrations which may be more than required to elicit a robust response. Such patients could potentially benefit from changing the dose," the researchers wrote.
A lower dosage of the therapy for some people with CF could work just as effectively, but "balance clinical response with side effects or adherence needs," the team noted.
The study, "Plasma and cellular ivacaftor concentrations in patients with cystic fibrosis," was published in the journal Pediatric Pulmonology.
Kalydeco is a CFTR potentiator that helps to "prop open" the gate-like CFTR protein in people with certain cystic fibrosis-causing mutations. The therapy is widely approved to treat patients with eligible mutations, and the active ingredient also is contained in all other currently approved CFTR modulator therapies.
Some researchers, however, have questioned whether "steady–state concentrations" — a therapy's levels in the body — might vary among CF patients and influence their response to Kalydeco.
To learn more, a group of scientists from the University of Alabama at Birmingham conducted a study aiming to better characterize the pharmacological properties of Kalydeco.
Investigating Kalydeco in CF patients
The study included 16 people with CF, ages 9 to 50, who had been on Kalydeco for a median of nearly six years. The researchers assessed blood samples from the patients as well as samples of nose cells, though not all patients had available data for every measure (e.g., one patient had difficulty with blood draws).
The test results in this study were compared with data available from clinical trials of Kalydeco. The findings showed that a measure of total medication exposure called area under the curve over 12 hours was, on average, 67% higher in this study than in clinical trials.
Other measures of therapy exposure also were higher in this study than in prior trials, while the half-life — a measure of how long the therapy lasts in the body — was markedly shorter.
Analyses of Kalydeco blood levels in each patient over three visits showed marked variability, but levels were consistently higher than the goal concentration needed to achieve a therapeutic effect.
"These data [suggest] that some patients may tolerate reduction of their dose while still maintaining target-site concentrations sufficient for maximal effect," the researchers wrote.
The team suggested that measuring concentrations of Kalydeco in cystic fibrosis patients may help guide these decisions, though they noted that doing so is not necessarily feasible in most clinical settings.
In blood samples, the measured levels of Kalydeco showed no significant association with levels in airway cells collected from participants' noses. Levels of Kalydeco in nasal cells also did not vary over time in the way that blood samples did.
"Cellular concentration data provide evidence that target site concentrations may not significantly vary over the hours following ingestion, unlike the concentration variation in plasma," the non-cell part of blood, the scientists wrote.
Exploratory analyses generally did not show significant associations between Kalydeco levels and clinical outcomes.
"This result was anticipated since all concentrations were above the" goal value needed for a therapeutic effect, the researchers wrote. They also stressed that these analyses were limited by the study's small size.
Kalydeco is sold by Vertex Pharmaceuticals, which was not involved in this study. Funding for the study came from the National Institutes of Health, the Cystic Fibrosis Foundation, the Gregory Fleming James Cystic Fibrosis Center, and the University of Alabama at Birmingham.